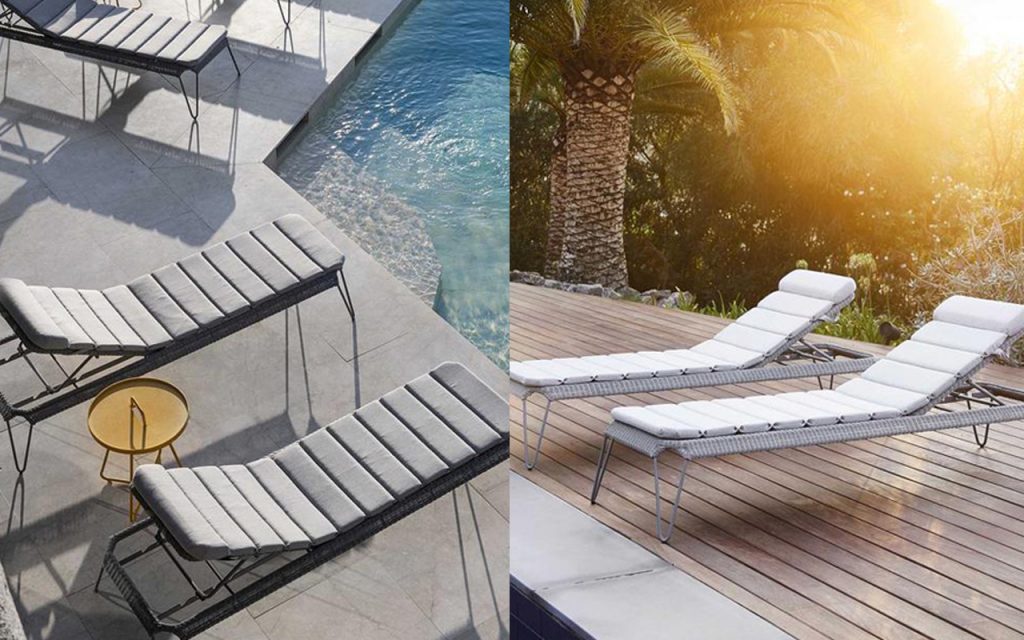 The month of May is upon us, and with it comes a calendar chock full of reasons to party. May marks the beginning of the end of the Spring season. Star Wars fans will greet you with the customary "May the 4th be with you" on Star Wars Day; Cinco de Mayo is the next day, followed shortly by Mother's Day, then The Preakness, and Memorial Day wraps up the month in style. No matter where you're from, there are plenty of excuses to get out in the yard and celebrate!
People are beginning to gather socially again as our world slowly reopens due to the success of the nationwide vaccine rollout. If you are among the many longing for a return to normalcy, this might be the perfect month to consider hosting a get-together with your fully vaccinated family and friends. The timing couldn't be better either; it's never been safer (in the last year) to visit with distant loved ones; there are plenty of holidays to choose from, we have spent over a year in relative isolation. We are all going slightly insane, and the weather is beautiful!
Here at All American Outdoor Living, we see this as a recipe for some long overdue outdoor fun and festivities. Now is the perfect time to upgrade your outdoor living space for maximum comfort and style. To help with your upgrading project, we have a Memorial Day Sale where you can save up to 70% on our entire catalog of elegant outdoor products.
Elegance in the Outdoors
When it comes to enjoying the outdoors, All American Outdoor Living has perfected the formula. We offer a diverse line of patio furniture suited to encapsulate your imagination. From rustic to modern, we are proud to present our customers with a broad, colorful selection allowing your unique ideas to flourish. Need a Fire Pit to complete that patio oasis? Need a Patio Umbrella to save yourself from that pesky sun? All American has got you covered – literally.
Meet Some of Our Partners
We pride ourselves on offering a selection of the finest brands in the outdoor furniture business. We, along with our partners, offer the highest quality products alongside top-tier service. Whether you are simply shopping online or required hands-on assistance upgrading your space, All American Outdoor Living is standing by to help with our premiere White Glove Service. We think it is a service that is second to none.
Sunset West: An upscale line of outdoor products that include various modern and luxurious pieces that will make you and your family finally make proper use of and enjoy the external areas next to your home. These carefully designed pieces are produced to appeal to your sense of style and fashion so that your body and eyes can relax when immersed within the Sunset West patio furniture collection.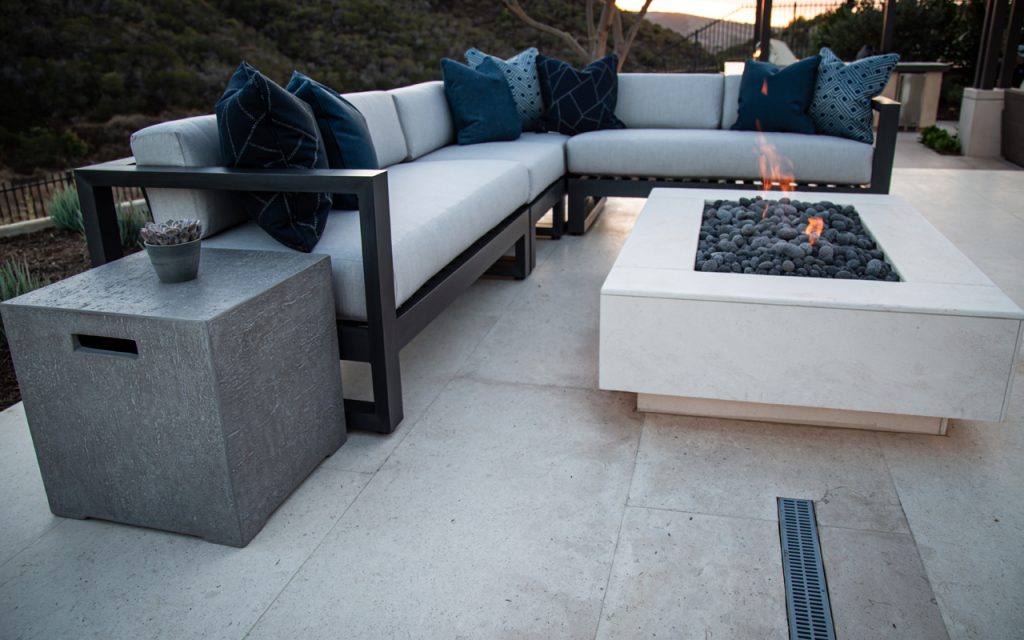 They create a beautiful contrast between the outdoor living area and your outdoor space's vibrant natural colors and are available in tan, gray, and white. You can place any Sunset West outdoor furniture piece in a covered or open area and integrate it within a modern, traditional, or transitional style to accentuate the beauty of your patio or garden. You can even use these pieces in a commercial area such as a bar or lounge to attract more customers and offer an unforgettable and relaxing experience.
Cane-Line: The Cane-Line outdoor furniture includes some of our most inspiring and modern patio furniture in our collection. Cane-Line chairs are sleek and elegant. The Cane-Line outdoor sofas feature an utterly relaxing piece of furniture that will make your patio or garden seem considerably more beautiful and curated.
Our Cane-Line garden furniture comes in brown or other contemporary colors and can be matched with any design style, from modern to casual, rustic, or artisan. In addition, you can place any Cane-Line lounge chair or sofa in an open space without worrying whether you need to anchor it to something else. The captivating design of these chairs and sofas allow them to become accent pieces in any outdoor environment. The Cane-Line patio furniture can seat two people and is made of an aluminum, teak, or wicker frame, combined with a cushion, teak, or wicker seating material.
Ratana: The name Ratana signifies elegance in timeless design and exceptional quality of outdoor furniture, ranging from traditional to transitional and contemporary. Ratana outdoor furniture caters to any style and setting that truly enhances your home and casual living experiences. Our comprehensive line of contract and hospitality specification furniture can be seen worldwide, from 5-star luxury hotels to top-ranked restaurants, from international golf courses to global Olympic venues. Ratana patio furniture pieces are poised to create the ideal setting with premier comfort and prestige to achieve the ultimate relaxation for your luxury lifestyle.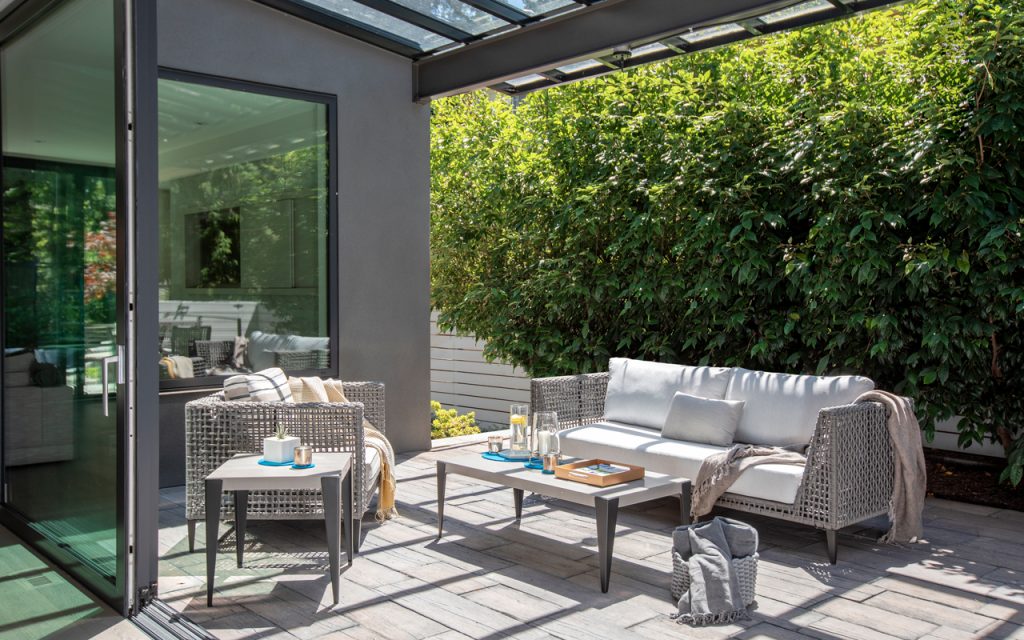 Ratana outdoor furniture pieces are characterized by unique and modern colors such as pink, black, brown, purple, and gray. You can place them in both covered and open spaces to make your outdoor living room more comfortable and extra luxurious. Their sleek and elegant aluminum frames, combined with soft cushions, appeal to your sense of style and allows you to relax in your private oasis.
Fire Pits
Gathering around a fire with friends and family is an unquestionably enjoyable and social outdoor activity. The warmth and light of fire are incredibly soothing, whether you're making s'mores and sharing ghost stories with the kids, catching up with neighbors over a few drinks, or simply stargazing with a partner.
These types of activities have become so commonplace that purchasing a fire pit has almost become a requirement for homeowners. However, with so many choices to choose from, it can be challenging to know which ones are a worthy investment.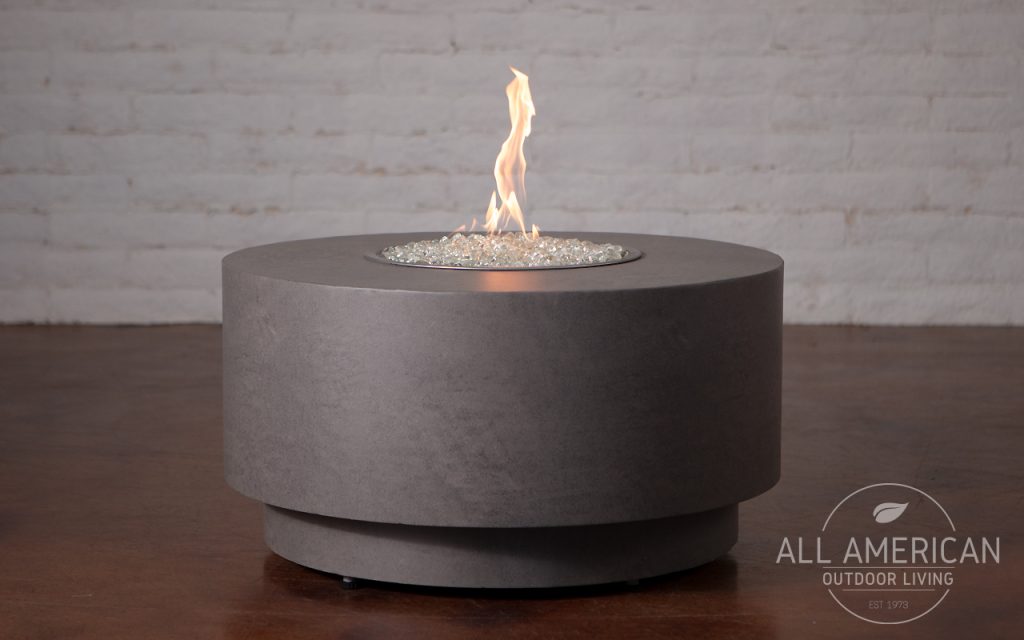 Our line of fire pits is among the most adaptable, well-built, elegant, and efficient models available on the market today. The 42-inch Alumi-Crete Round Firepit is our top seller, and a great example of the high-quality pits open in our catalog. This line of fire pits is powder-coated in aluminum with a Teflon-coated clear finish for a look that is indeed the definition of a modern sheik design. Each model comes with optional fiberglass in an array of colors and reflections to truly elevate the style of your outdoor space. These pits are fitted with stainless steel burners powered by propane tanks, making them easy to maintain and incredibly affordable to operate. Make time this summer to gather with family and friends around your new fire pit and enjoy the best homemade s'mores in town. Just don't let the marshmallows burn!
Outdoor Couches and Seating
Designed to offer proper outdoor luxury seating, our line of outdoor couches, love seats, and sofa chairs take on proportions and scale usually reserved for indoor upholstery. The collection's styling is timeless; the comfort is unsurpassed, the only thing missing is the environment in which to place it.
Your patio is supposed to be a place where you can unwind and relax, so some kind of seating is needed. If you have a small yard, luxury comfort chairs are a great choice. Garden chairs come in a variety of materials, including wood, plastic, wicker, and aluminum. You should choose the material based on your budget and needs. If your space is small, two chairs will suffice, but if your garden is more extensive, a collection of four or six chairs is suggested.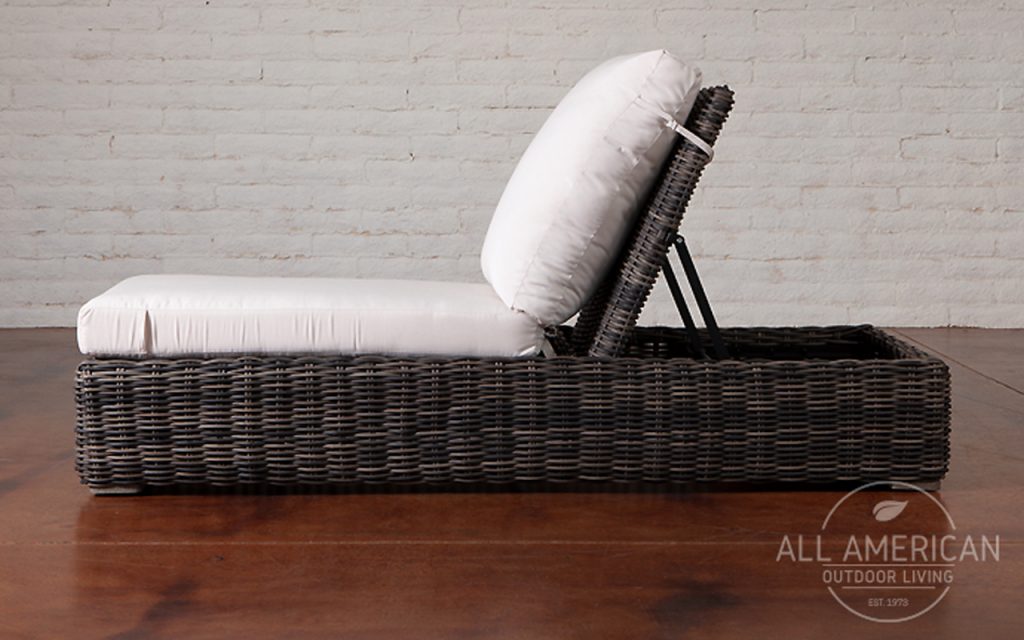 Loveseats: Our most popular loveseat combines modern and industrial design elements into one eye-catching piece. Its open silhouette and elegant, angular lines are thoughtfully enhanced by details like beveled extrusion edges and subtle soft curves. The Redondo range, which is made of the highest quality materials for comfort and longevity, will last a long time with little upkeep. It has a powder-coated aluminum frame with a polished burnished slate finish and resin feet to protect the foundation.
Large Sofas: Sofa sets are possibly the best choice for garden furniture if you have a large yard. They provide the utmost relaxation. Your garden will look attractive, classy, and decent with sofa sets. What could be better than sitting outside with your guests and talking while enjoying the cool breeze and the fragrance of fresh plants?
All of our large sofas are handcrafted, fully welded into a heat-resistant aluminum frame, durable, architectural grade, and come with a powder-coated finish. The cushions are made of quick-dry foam and come in a wide variety of colors to match your home's style. They are also UV and weather resistant. Our Coronado Large Sofa is a popular choice and a great place to start your search for the perfect outdoor couch.
If you have ample outdoor space, consider a more oversized couch to fill the space and expand your hosting abilities. Consider our popular Redondo 3-Piece Sectional for the ultimate lounging experience.
Chairs: If you're working with a smaller space or budget, consider one or two small comfortable chairs for outdoor relaxing. The Coronado Club Swivel Rocker is an elegant choice that can add a natural boost of class and comfort to your yard.
Don't wait; the deals are going fast! Visit our showroom for the best deals and be sure to ask about our new ROMA collection.