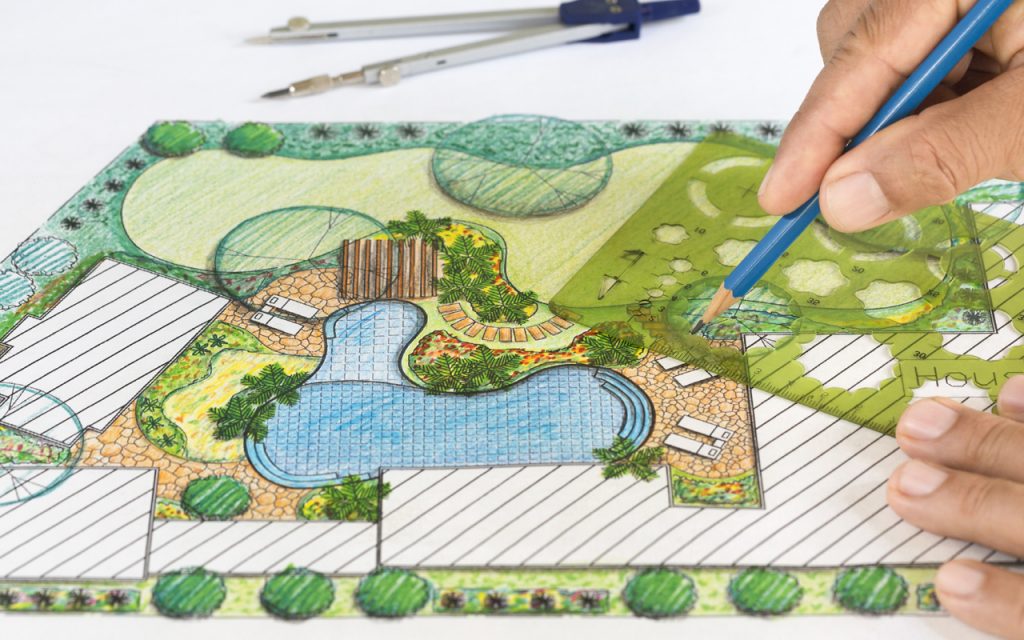 Your backyard or patio's comfort level ultimately determines how much time you devote to outdoor living and enjoying your personal space. With Summer right around the corner, now is the perfect time to evaluate and upgrade your outdoor furnishings.
Your patio is an integral part of a poolscape because it can be used for sunbathing, eating, socializing, relaxing, playing sports, and more. The ideal patio design for your pool should match both your house's theme as well as suit your lifestyle. Let us guide you throw the crucial things to know before you upgrade your patio.
Designing Your Deck
Above-ground pools are usually surrounded by pressure-treated wood decks, exotic woods like ipe, or decks made of wood-like composite materials like Trex, although there is no hard and fast rule. Go for it if you have an in-ground pool and want a wood deck. When it comes to wood decking, there is a maintenance problem in that it doesn't last as long as natural stone. Since it is continuously exposed to pool water due to splashing, it can require regular power washing, staining, and sealing to maintain its appearance.
Create a Patio Plan
A patio is often constructed next to an in-ground pool to provide a space for entertaining and relaxing where you can also enjoy fine outdoor furniture. Poured concrete, precast concrete pavers, or natural stone such as Pennsylvania bluestone or limestone may all be used. The materials you use for a patio should match the hardscape materials you use in your home to create a consistent design or look.
Allow enough space on the terrace to position the furniture, but not too much. You don't want to be paving for miles. It's unappealing. On one side of the pool, we recommend building a patio. Take cues from your surroundings and perspective. You could tuck a patio right up against the landscaping. You don't have to walk the whole length of the pool. Sit on one side and take in the scenery.
Leave Room for Landscaping
The pool becomes an integral part of your home as it is integrated into the overall scheme of your landscaping. It's a good idea to consult a landscape designer or architect early on in the pool-design process. You'll want to make sure that everything you plant near a pool is far enough away from the edge that it doesn't make it difficult to walk around it.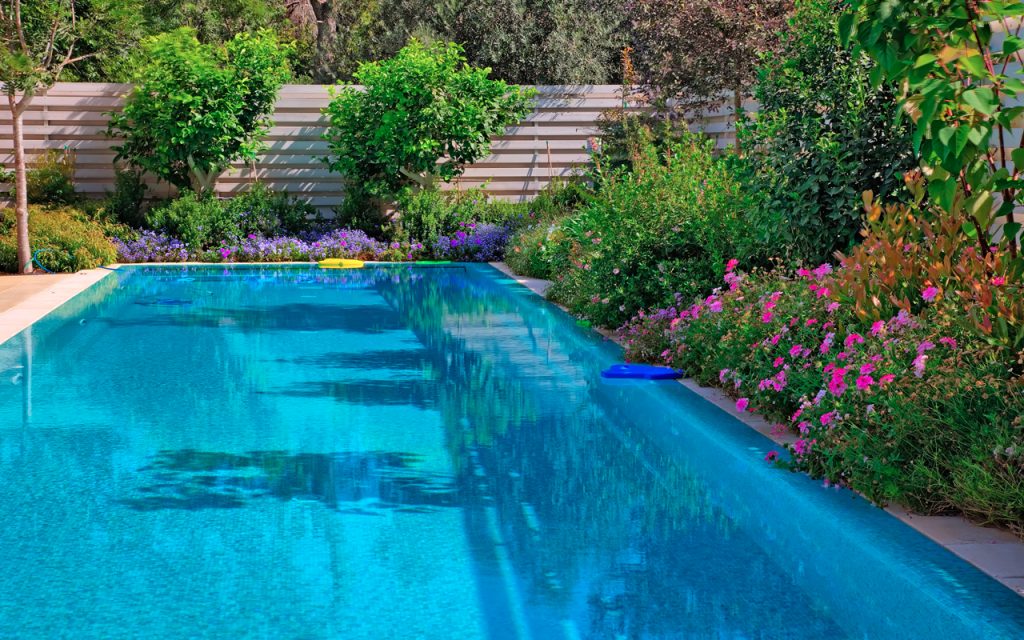 You'll want a lot of summer color from flowering plants if you use your pool, mainly in the Summer, but you should know what you're planting. Please make sure you understand what the plants need, how large they can grow when fully grown, and how much sun and shade they need. Planting shade trees by a pool is a bad idea because you'll have to deal with dropping leaves that could end up in the pool.
Container plantings fit well around a pool. Tropical plants in pots will give you a tropical feel, but keep in mind how much care they'll need. You must be dedicated to watering your plants every day, and if you go away for the weekend, you must have someone water them for you.
Splurge on Furniture and Accents
Furniture is the key to any comfortable poolside patio. Once you've got your design figured out, getting furniture to match the style and comfort needs to top priority. Your furniture needs will depend on the design aesthetics and other factors, but there are some standard options to consider.
Fire Pits: Fire pits come in various options based on function and design, and there is undoubtedly one to suit your needs and tastes. You can install a purely aesthetic gas fire pit to warm yourself by or opt for a wood-burning one to roast s'mores over with family and friends.
There are options for portable pits that can be moved based on the occasion, but the more elegant ones are built-in as a permanent feature. A hot new trend in the fire pit category is coffee table fire pits. These tables are small and portable and feature a burning center to gather around. They are affordable and a great entry option for those with limited space or budget.
Outdoor Curtains, Umbrellas, or Shades: Outdoor shades might seem out of season for fall, but they are more valuable than just soaking up the sun's rays. As the weather cools, the winds will pick up and bring with them a cool fall breeze. Outdoor shades and curtains can block those winds or at least drastically reduce their chilling impact on your relaxing evening.
Shades are also a practical solution for strategically blocking out your neighbor's views of your patio. Patio Umbrellas can still be a practical piece of patio furniture during the fall. The west coast is often sunnier for longer than other parts of the country. If you are out west, consider a patio umbrella to keep the sun off you until it sets.
Patio Design Ideas
If you aren't sure where to start with your patio design, consider some of these popular styles as a starting place for your plan.
As an alternative to a conversation-style patio, the Garden Oasis: A garden oasis seeks to improve the pool's natural environment. The number of seating areas is kept to a minimum, and the room is instead filled with lush plants and raw materials. A garden oasis concept will give you a sense of being away from home.
You can transform your patio into a serene escape where your concerns melt away by enclosing the pool in vibrant blossoms and flourishing greenery. A water feature, such as a waterfall or bubbling fountain, can soothe the soul with the soothing sound of cascading water. Even the most straightforward pool patio can be transformed into a garden oasis with containers or decorative planters. The lovely planters that flank this formal pool design help to anchor the room and create visual appeal.
The Covered Patio: A covered patio helps you to relax by the pool without overheating. It provides a relaxing outdoor living room, particularly for pools that are located further away from the house. A covered patio can be anything from a curtained cabana to a wooden pergola to a custom-designed pavilion. It can be used to relax, entertain, or enjoy the shade. The poolside loggia, framed by two stone structures and features a pergola, provides a cool respite from the heat. A fieldstone cabana offers a spacious changing area with outdoor showers built into the exterior wall.
The Backyard Retreat: A backyard retreat patio design can encompass several—or all—outdoor activities, from lounging in the sun to dining al fresco to entertaining friends, making it the ultimate in poolside living. When only the family is present, this grand poolside setting can comfortably host a large number of guests for a summer barbecue. Still, it feels intimate when only the family is present.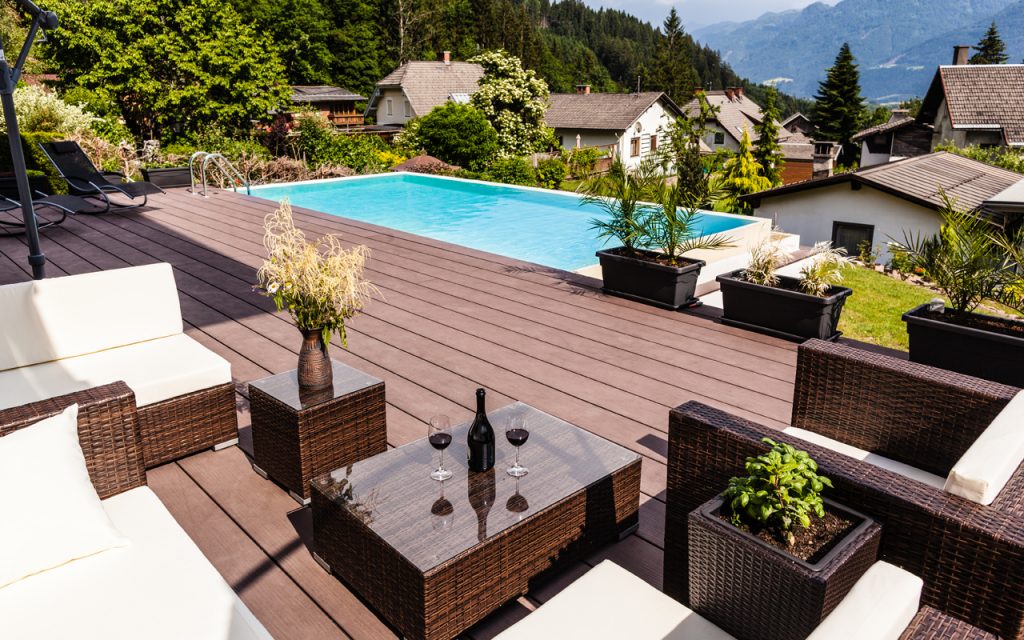 The Outdoor Room: The comfort and conveniences of your favorite indoor space are brought to your poolscape with outdoor room patio designs. An outdoor living room becomes a popular gathering place for family and friends. The design of this cozy indoor-outdoor environment requires deep-seating patio furniture and a custom fireplace.
An outdoor dining room is essential for pool owners who enjoy dining al fresco on the patio regularly. What is the most important aspect of an excellent outdoor space? During outdoor celebrations, an outdoor dining collection with a table wide enough to fit family members as well as guests.
The Outdoor Kitchen: An outdoor kitchen will complement the design of an outdoor dining room while still transporting food to the table a breeze. The outdoor gourmet kitchen can also have an outdoor TV for visitors to watch while relaxing at the swim-up bar adjacent to the kitchen.
The Bistro Patio: A bistro patio is ideal for those with small backyards who want a peaceful place to relax and take in the scenery. This small patio design, which includes a bistro table and two chairs, can be incorporated into the pool area or separated by a small pathway.
Although a bistro patio design is suitable for small pool areas, it also fits more extensive settings. Three separate bistro patio areas can be found in the poolscape above. Each nook provides a unique perspective on the surrounding landscape while also creating a more intimate atmosphere. For summer nights spent al fresco, a fire pit adds a comfortable touch.
The Sun Deck Patio: A sun deck patio is ideal for unwinding by the lake. After a swim in the pool, it's a great place to relax, unwind, and enjoy the sunlight. When lined with rows of stylish outdoor chaise lounges, a sun deck along the swimming pool perimeter may imitate the look and feel of a luxury hotel or resort.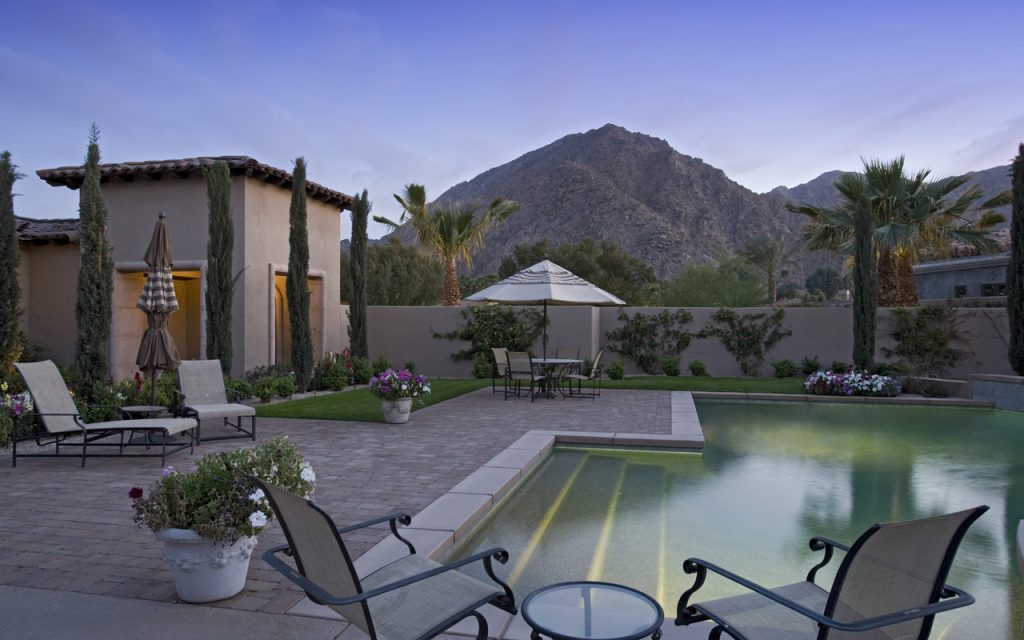 Another patio design for poolside lounging is an in-pool sun table, also known as a tanning shelf. A tanning shelf is a wide shallow area at the pool's entrance that is usually 5 to 8 inches deep. It can run the length of the pool or just a tiny part of it.
Visit our showroom for more outdoor furnishings ideas for your poolside.