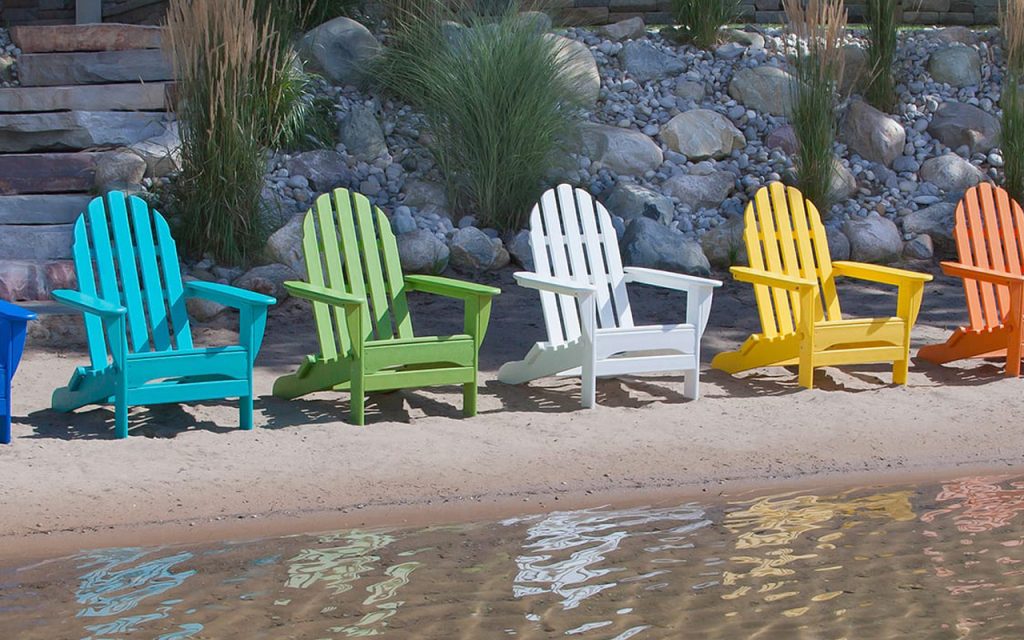 There is a new secret ingredient in the outdoor furniture arena. It is long-lasting, easy to clean, recyclable, and can work as a covering for your furniture, or even as planks of lumber. This material withstands blustery winds, cold winter nights and the sweltering rays of Arizona's hot summer sun. This material is HDPE, short for high-density polyethylene, and we love how it's being used in outdoor furniture.
Cool Facts About High-Density Polyethylene (HDPE)
According to Acme plastics, HDPE is "made of a higher grade thermoplastic polymer that comes from petroleum. It resists corrosion and oils, is easily recycled, and is easily sanitized for use with food.
HDPE is currently in high demand. In fact, according to recent research from Byjus.com, this type of polyethylene accounts for more than 34 percent of the world's plastic market. In fact, a recent market study from Cerasana stated that the worldwide demand for HDPE will increase by an average of 2.9 percent per year by 2026.
Although you might not have heard of it before, it is probable that you have HDPE in your home right now, and not just in your furniture.
Common household uses for HDPE:
Food storage containers
Cutting boards
Plastic bottles
Milk jugs
Shampoo bottles
Bleach bottles
Drinking water pipes
Sewer pipes
Storage sheds
Plastic lumber
Kleenex tissues
Bottle crates
Shoe Laces
4 Benefits of HDPE Furniture
Although there are many many benefits to HDPE Furniture, there are four we think you'll particularly appreciate.
HDPE can withstand much higher temperatures than other furniture materials, which makes it perfect for warm climates. It's a great choice for the beach as well.
Other features:
HDPE Is UV protective so it maintains the color and stability of your furniture.
HDPE will not rust, which overcomes one of the biggest drawbacks of metal.
HDPE is a strong, resilient plastic so it lasts a long time. Furniture made from or covered with this material can last for decades in harsh weather conditions. It's so strong that it can withstand heavier loads than most of the other types of polyethylene due to its high strength-to-density ratio. It is also dent-resistant.
Easy Cleaning and Maintenance
HDPE furniture is simple to clean and maintain. It is resistant to many common solvents, acids, and other cleaning chemicals, including bleach. For example, our stain-resistant Adirondack Plus requires no painting or waterproofing and cleans easily with soap, water, and a soft bristle brush.
Environmentally Responsible
HDPE is easily recyclable, making it an environmentally responsible plastic. Reclaimplastics.com shares that HDPE is "accepted by street pick-up recycling services almost worldwide and can then be used in the production of new products.
HDPE Benefits in Brand-Name Furniture
HDPE is a great ingredient to have in your furniture. Brands like Tropitone, MAD Fusion and Polywood are marrying HDPE's versatility with modern style and comfort.
Tropitone
Tropitone's polymer furniture is designed to revolutionize your water lounging experience. These pieces can rest directly in your pool without fading or degrading. We particularly love the Curve chaise lounge.
Description:
Our Curve chaise lounge mimics the contour of the human body with an arched back, low seat, and a bend for the legs. Made from an environmentally friendly, waterproof polymer, Curve is suitable both inside the water and for poolside lounging. Several bright color options make this a fun choice for homes or hotels.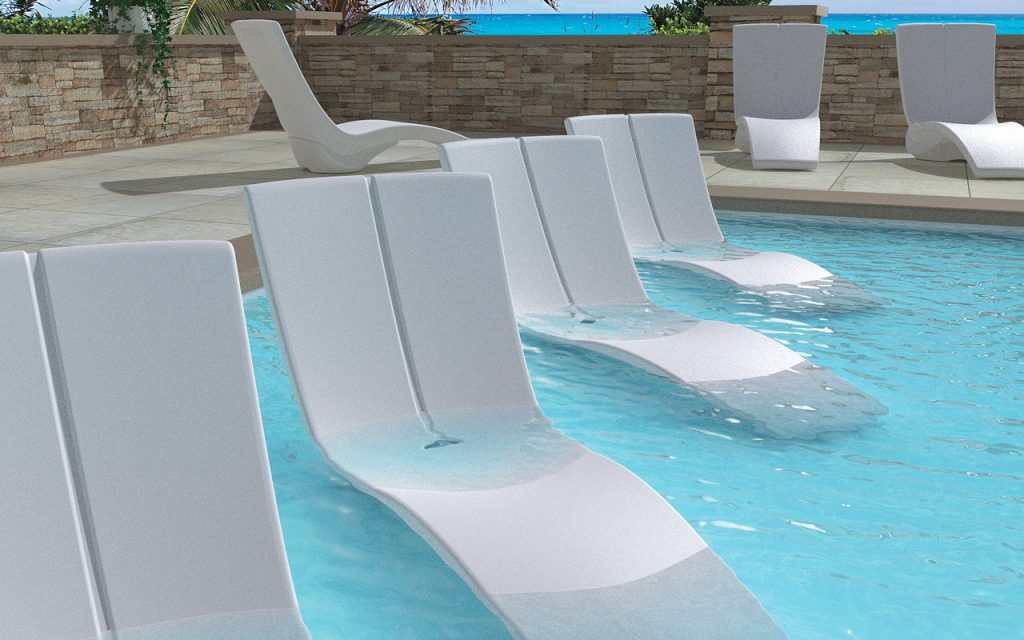 Let's face it, Tropitone is always a great choice for outdoor furniture.
"If you're looking to spice things up around your patio, furniture from Tropitone is an excellent choice. This highly versatile brand boasts a wide array of styles to choose from that range anywhere from vibrant and tropical-inspired to sleek and contemporary. Each piece made by Tropitone is crafted of the highest quality with sturdy, weather-resistant frames. Colorful cushions lend a vibrant element to your patio, and you can integrate them into any outdoor space with ease." – All American Outdoor Furniture blog post
MAD Fusion
We love this MAD Fusion HDPE Adirondack chair! This modern take on a classic chair works well in any environment. Arrange them around your outdoor fire pit, by the poo, or take them to your next beach BBQ to lounge in comfort.
With more than a dozen color options, these chairs will complement your outdoor style. The MAD Collection also features an extensive array of modern tables and chairs in dining, balcony and bar heights, all constructed from EnviroWood¨ HDPE all weather lumber.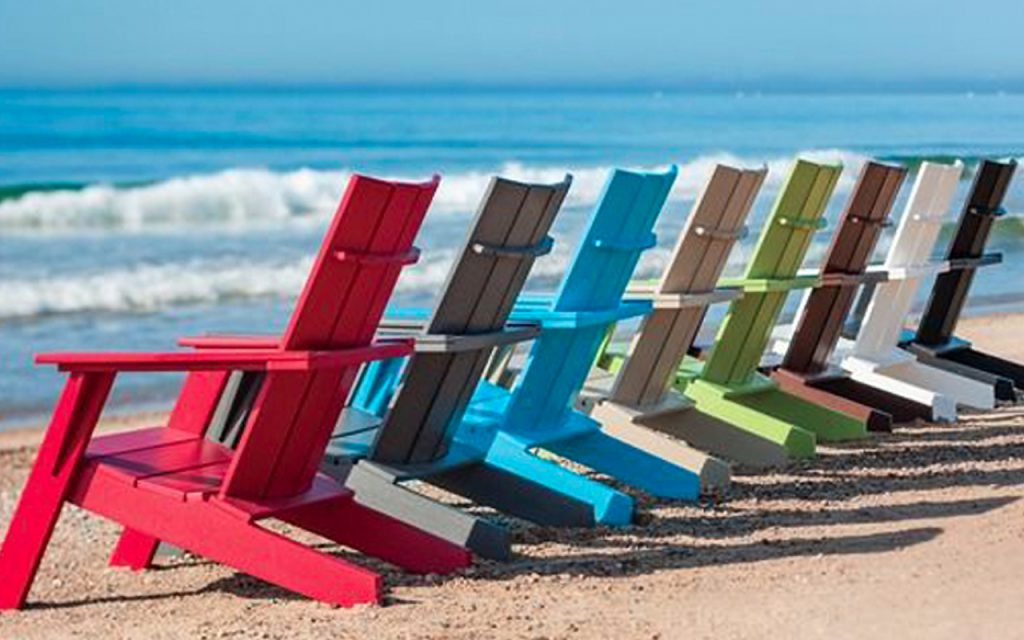 Polywood
Polywood's HDPE Outdoor Furniture collection, featured by All American Outdoor Living, is a fan favorite on our site. Polywood patio furniture comes in a variety of colors including pink, tank, black, brown, gray, green, orange, red, teal, white, yellow and blue.
In addition, HDPE patio furniture can be integrated in any modern, traditional, transitional, coastal or casual outdoor design. Their compact square or rectangular shapes make them perfect for lounges and small patios as well as at poolside.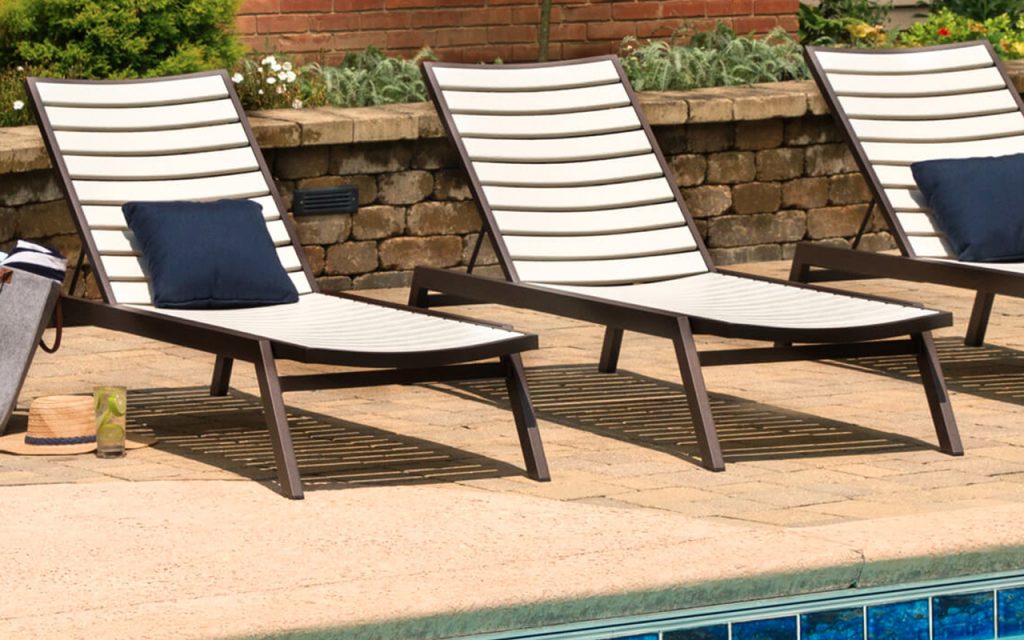 Final Thoughts
HDPE is a versatile material that is becoming increasingly popular worldwide. It works well as a covering or as planks of lumber and benefits like being long lasting, recyclable, weather resistant, is easy to clean – make this the perfect furniture to add to your outdoor living space. Please come visit our showroom to see all of our HDPE furniture options.