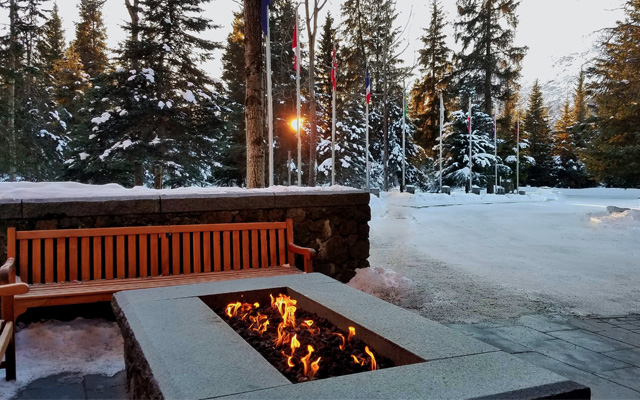 Winter is here and it is on in full force. As the temperatures drop and the trees shed their leaves, one thing becomes clear: it's time to prepare for the cold weather. Regardless of the materials your outdoor furniture is made of, be it wood, wicker, metal, or plastic, it's important that you store your patio set in a dry place where the snow and rain can't get to it. Leaving your furniture out all winter is a surefire way to ruin it.
Now is the perfect time to either enjoy mother nature at her coldest, or pack up the patio furniture for the coming months and stay inside. Whether you are the type to bundle up and enjoy the winter on your patio or are more inclined to hibernate for winter, we have all the information you need to prepare you patio space for the cold weather ahead. Below is our best advice for making the most out of your patio space in the cold weather, followed by our top tips for safely securing your until next season.
Embrace the Cold Weather
As the saying goes, "some like it hot". I'm sure Marilyn would agree that this logic would also imply that "some like it cold". If you are the type of person who loves a hot beverage on a cold winter's day, then this section of the article is for you. Too many people give up on enjoying their outdoor space in the face of a little cold weather or rain. Here at All American Outdoor Living, we believe you should enjoy your patio all year round. Grab your blankets.
In order to enjoy your patio in the cold weather, you'll need to consider some weather appropriate additions to your patio space. If you don't already own a fire pit or a fire table, now would be the time to consider investing in one. A fire pit can warm you and your family on the warmest of winter nights and can add a magical ambiance to your patio.
Imagine spending Christmas Eve roasting chestnuts over a literal open fire. That magical moment is within reach if you install a fire pit. Fire pits are also great all year round. You may be investing in one because of the cold weather, but you'll still be reaping the benefits of it come summer time. I can smell the s'mores already!
If you don't have the outdoor space that can accommodate a fire pit, consider an alternative in a fire table. Fire tables are the hot new trend in the backyard furniture game. Small, lightweight, affordable, efficient, and magical are all terms that accurately describe fire tables. You can even get coffee table sized fire tables so you can start your day off with a cup of java next to a warm fire.
Hibernate for the Winter
If you fall into the other camp of people who would prefer to hide away from the cold weather, we can't blame you. No one truly loves to be cold; some just prefer to bundle up in spite of it. Here is all the information you need to properly prepare your patio for the long winter.
Clean Everything:
Arguably the most important and most often overlooked part of patio maintenance is to simply clean everything. This goes double for packing up your furniture for the winter. It is important to scrape off any mud, dirt, mold, mildew or grime that has built up over time. There's no sense in covering and storing your furniture if it is dirty, as it will still take wear and tear damage from the dirt over time.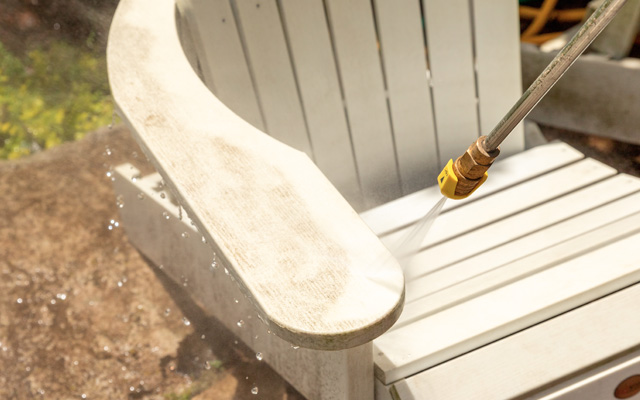 It is also important to inspect any metal furniture you have for rust and oxidation. Addressing these issues before storing them will greatly reduce the odds of the problem getting worse over time. Use steel wool and paint to clean and refinish any areas that might have succumbed to mother nature's elements.
Patio Covers:
Properly form fitted patio covers are the most important factor for keeping your patio furniture safe this winter. Most manufacturers offer custom fitting covers for their products and are always considered a good investment if they don't come with the initial purchase. If you can't get a set of custom covers, invest in a general set of covers that will fit your pieces. Look for covers that offer high quality fabrics made of synthetic fibers.
All American Outdoor Living outdoor patio covers are constructed of top-grade fabrics and fibers, made of solution dyed acrylic and nylon fabrics. Our outdoor patio furniture covers are durable and breathable, water resistant, and will not crack or peel like vinyl. The patio covers are beige in color and have a variety of sizes that fit table and chair covers, individual covers like an outdoor sofa, or love seat; also available are fire pit covers, chaise lounge and umbrella cover.
Our outdoor patio covers will fit aluminum furniture companies such as Tropitone, Mallin, Brown Jordan or Castelle, as well wicker manufacturers like Ebel, NorthCape International, and Lloyd Flanders; along with outdoor wrought iron companies like O.W. Lee and Meadowcraft.
Stack It Up:
One way you can approach you patio shutdown is to think of it as way challenge to save space. In doing such, you'll find that stacking matching chairs can save space and make it easy to cover with a single large tarp or cover. You can also flip small tables upside down and stack them on each other. Wrap any glass pieces in blankets and/or towels to keep them from getting too cold and shattering when you bring them back out the following season. Also, check the storage area for potential leaks and flaws in the structure that might allow rodents or water to get inside.
Wicker Weatherproofing:
Here is a great tip for owners of wicker furniture. Use a bleach and water solution to brush over the surface of your furniture. In doing so, you will prevent mildew from growing which can occur even with a cover over it. There also solutions you can purchase to repel moisture on the legs of wicker chairs and tables. Apply a water-repellent finish to reinforce furniture and protect it from any moisture that might find its way into the storage space.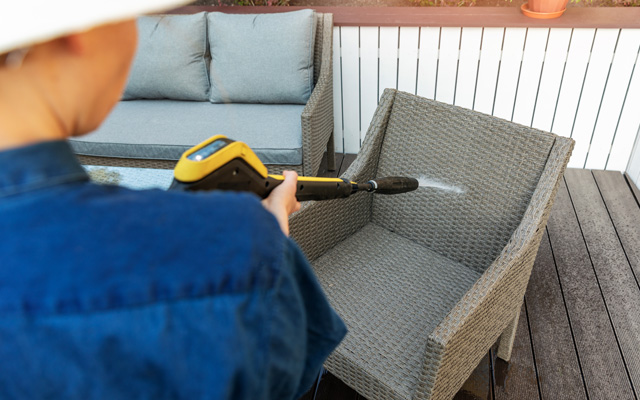 Wash Your Fabrics:
If your patio featured furniture with lots of cushions, you'll want to remove those and take them inside for cleaning and storage. Pay attention to the specific cleaning and care instructions provided with your covers as not all materials can simply be thrown into the washing machine. Use a color safe bleach to kill any mold or mildew that may have grown while outside.
If your patio cushions cannot be taken apart, use a mild detergent and soft brush to clean the exteriors. You can then leave them hanging to air dry, which should happen rather quickly in the cold weather.
Hide Your Plastic:
If you have any furniture or decor that is made of plastic, consider moving it inside for the winter. Plastic furniture is extremely resistant to the rain and snow, but the cold it becomes, the more brittle it is. Plastic furniture can be covered, but doing so will not guarantee that the structural integrity of the piece will stay intact. Move your furniture somewhere warm and dry or you might accidentally shatter the furniture into pieces the next time you go to use it. Also, fix any cracks you find in plastic furniture however minor or the cracks will likely spread until they're too large to repair.
Wax Your Aluminum:
It might sound odd, but good old fashioned car wax is the perfect defense for your aluminum furniture against the cold harsh weather. Wash down any aluminum furniture you have and completely dry before apply a layer of automotive wax. This will help keep water off the aluminum and protect the paint from inclement weather.
If you experience any paint chippings, you can also use car touch up paint to fix any unsightly blemishes on your furniture. Who knew automotive products would be so handy for protecting your patio!
Seal Your Wood:
If you have any furniture that is made out of wood, you'll want to consider using a sealant to protect it from moisture and rain. Sealing the wood will prevent the wood from expanding and becoming misshapen. If you have teak furniture specifically, this might be less of an issue for you. Teak is naturally full of resin and oils which prevent winter from permeating the surface. Considering teak is the most popular wood in outdoor furniture, this may apply to you. Either way, double check your wooden furniture and see if adding a coat of sealant might just extend the life of your patio furniture.
Stop in one of our All American Outdoor Livingv locations or shop online to find the best outdoor products to protect your outdoor living room!