Outdoor fire pits add ambiance and warmth to your outdoor living area, elevating it to a luxury retreat. Especially during the cool winter evenings, they're a hard feature to pass up! Add in quick shipping, with delivery in two weeks, and this offer is a beat-the-supply-chain-issues steal.
Our stylish quick-ship fire pits include a variety of modern tables to make your outdoor living areas more appealing than ever. These unique outdoor fire pit tables can be inserted within any style of exterior space, modern or traditional and alter the atmosphere.
Whether you're warming a covered patio or an open area, the fire pits will elevate the look of a garden, a balcony or a swimming pool-adjacent deck. They also work successfully in commercial environments, attracting customers with their contemporary look and feel.
According to a 2018 study conducted by the American Society of Landscape Architects, the top three most popular outdoor design elements include fire pits (66.0 percent), lighting (65.4 percent) and seating/dining areas (64.0 percent).
As a bonus, these fire pits cost less than you think.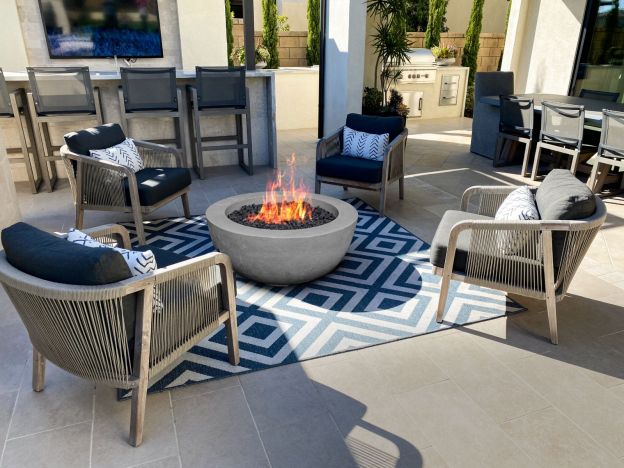 Design Details.
Our fire pit tables come in round, rectangular and square shapes so they can be integrated within any existing outdoor space. The variety of design features allows them to perfectly flow into your existing layout. Best of all they come with a variety of choices and arrive in just a few weeks.
Features like durability, creativity and elegance are what make these fire pits stand out.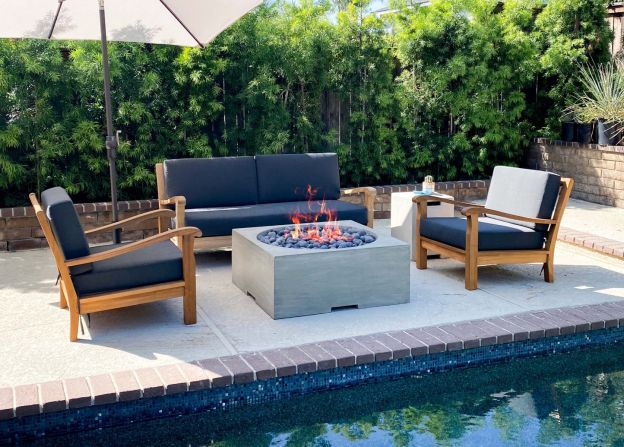 Durability
Our durable design includes:
Glass Fiber Reinforced Cement
Available in Hand Crafted Pewter Finish
65,000 BTU Orifice
Propane / Natural Gas Compatible
50 lbs Volcanic Rock Included
Stainless Steel Burner Insert
Key Valve Ignition
Creativity
We love that these fire pits allow you to showcase your own creative style. We've put the design choices in your hands, but our designers are still here to help if you need them.
We offer options for everything from fuel type (natural gas or propane) to frame finish to the shape of the propane tank enclosure. Plus, our selection of six types of rock ensures that your fire pit design complements the look of your outdoor space.
Many of our customers love the volcanic rock included in the design, but many more upgrade to the various other fire rock looks available. We offer Tumbled Lava Rock, or one of four fire glass colors – amber, aqua, black or clear.
Our goal is to provide you with a quick ship fire pit that fits your style and taste and lifts your outdoor space to its highest potential.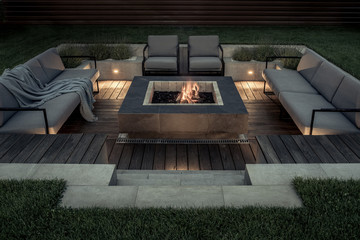 5 Other Reasons to Add a Fire Pit to Your Outdoor Space
It's a given that a fire pit adds ambiance to any outdoor space, but that's not the only extra benefit they provide.
1. They turn your patio into an all-season space.
Our quick ship fire pits will keep you outdoors on chilly winter nights and during changeable Fall weather. This alternative heat source lets you enjoy a no-maintenance cozy fire without having to worry about fire safety.
Because they're so safely contained, you can easily use them on a covered patio. Chase the chill year-round and enjoy outdoor living even during inclement weather.
2. They're better for the environment.
Not only are natural gas fire pits better for the environment than the wood-burning units, they are better for your health because you aren't breathing in any of that ash or smoke. Better yet, you aren't cleaning up a sooty mess or any piles of ash.
An added benefit for the natural gas fire pits is that they cost less to use than either the propane or a wood burning fireplace.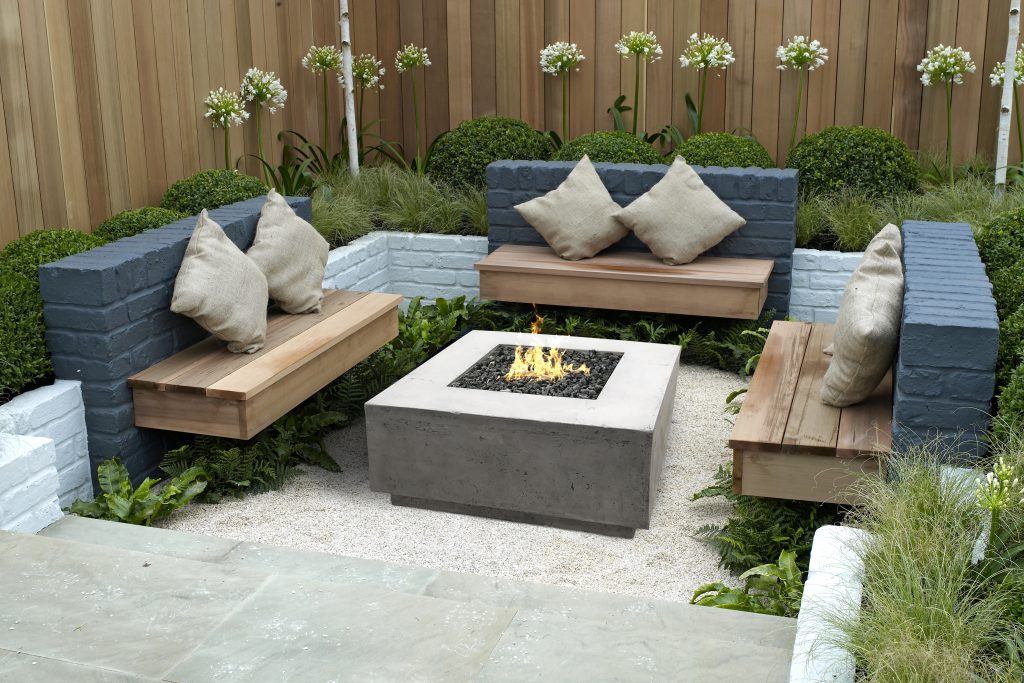 3. They discourage bugs.
Most insects and mosquitos don't care for fire or smoke. Because our fire pits are designed with tables, it is also easy to set out preventative candles or herbs as accents that also keep the pests away. Scents and oils like citronella, lavender, rosemary, garlic, basil, and lemon balm smell fabulous to humans, but not to those outdoor pests!
4. They provide alternative heat sources.
Fire pits provide heat on a cold winter night and many people prefer them over heat lamps for their outdoor spaces. The design choices are limitless with a fire pit and they are far more attractive. Plus, they are lower to the ground and make an easy focal point for outdoor seating.
5. They promote social interaction.
Fires aren't just attractive and comforting, they engage multiple senses at the same time. There have been medical studies that show fires help people relax and stay in the moment. It's a pretty safe bet that your guests will want to gather around your fire to relax and be social.
Perhaps it's time to revisit some of the options available and warm up your outdoor living area with one of our new, stylish fire pits! They're affordable and attractive, and we can have one shipped to you within two weeks.
Sometimes it's nice to just sit, relax, and stare into a fire.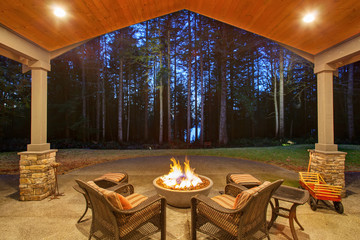 About Us:
In the past 10 years All American Outdoor Living has become the second largest patio furniture retailer in Arizona. We are the 5th largest Outdoor Living specialist in the Southwest, and are among the top 15 outdoor furniture and accessory retailers in the nation.
The Singer family has provided quality outdoor furnishings to the "Valley" community and all of Arizona for decades.
All American Outdoor Living proudly features many industry leaders including the trend setting, yet classic designed Brown Jordan, Tropitone, Castelle and Mallin collections. For those looking for quality affordable outdoor fire pits that ship quickly and transform your outdoor living, our Prism Hardscapes are the best choice.