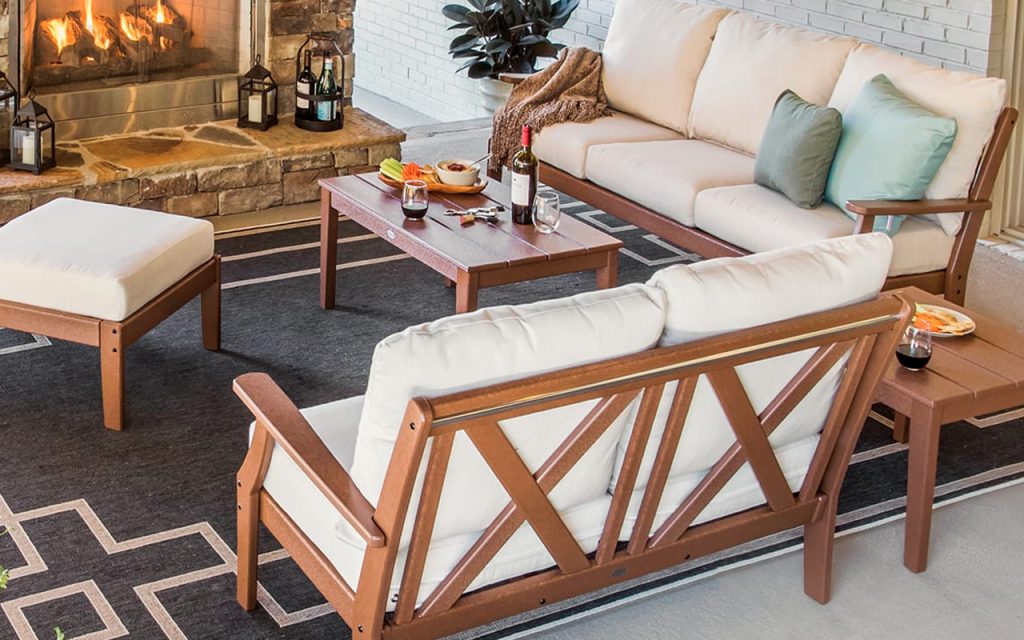 While searching for Phoenix patio furniture, you'll probably look for many of the same qualities in outdoor tables, chairs, and sofas that you would in interior tables, chairs, and sofas – durability, comfort, and style, all while meeting your budget. The main distinction you'll face is that patio furniture must withstand exposure to the elements outside. While there is no such thing as 100% weatherproof outdoor furniture, there are significant variances in the materials utilized.
It's critical to understand the advantages and disadvantages of the various materials available before making a decision. Assess how well each piece fits into your environment, as well as your tastes and needs. Since each material has intrinsic characteristics, choosing the "best" material for outdoor patio furniture is based on combining your unique demands with the unique properties of each material.
Desert Conditions
Homeowners who have established roots in the desert won't have to worry about their patio furniture rotting due to dampness or decay. Extreme heat and relentless sun are the significant challenges you'll face. Temperatures can change fast due to low humidity. The weather may decrease at night, but your furniture will have to resist the sun, wind, and dust throughout the day.
Because your local climate is unique, you should expand your study with knowledge relevant to your region. However, for desert furniture, the most important considerations should be sun resistance, ease of cleaning, and the extent to which the material absorbs heat.
There are many different factors to take into account while choosing your materials.
Temperature & Sun: If your climate is subject to significant seasonal climate swings and constant direct sunlight, you'll need to opt for materials that are UV resistant and can endure potentially extreme temperature variations.
Fading: Many materials fade and lose their shine over time when exposed to the light regularly. The visual shift might be attractive (for example, a lovely patina), or it can simply be a loss of brilliance or uneven spots.
Cracks, Splitting, and Warping: When heated or cooled, some materials expand and shrink substantially. However, when exposed to severe temperatures or abrupt changes, they can fracture, split, distort, or become brittle. Furniture can also flex and break due to dry air.
Heat Retention: Other logistical issues may arise as a result of the heat. Patio furniture exposed to the sun may become hot and unpleasant (or even dangerous) to touch. When sitting on or attempting to adjust a poolside lounge chair, no one wants to burn their flesh.
Wind: If you live in an exposed, windy location, your patio furniture must be substantial enough to prevent it from tipping over or blowing away. When confronting Mother Nature, it doesn't take much to ruin a lovely lightweight deck chair or dining table, and it's better to be safe than sorry. Otherwise, you'll have to keep storing or securing your belongings when they're not in use.
Durability: Several materials can endure for years under perfect conditions, but they may need to be changed every couple of seasons when exposed to severe weather. Others can resist a variety of factors and still appear brand new after a lifetime. Usage is another factor that affects durability. Your patio dining table will be in better shape than the sun loungers and daybeds that line the poolside of prominent luxury resorts and hotels if you use it a few times during the summer. The materials must be sturdier the more frequently they are used.
Cleaning & Care: How well you care for your patio furniture impacts its aesthetic and practical endurance. Season after season, certain materials require very little maintenance and are quick and easy to clean with just soap and water. Others require more time-consuming maintenance and specialized materials to keep them looking good and functioning correctly. If you don't have a lot of time or don't want to deal with the bother, use low-maintenance materials.
Eco-Friendliness: Even if they are unaware of the details, everyone is conscious that there is an adverse environmental effect from many manufacturing processes and the use of certain raw materials. When all else is equal, most folks (ideally) choose to be environmentally conscious.
Most luxury outdoor furniture brands have thankfully adopted "green" production processes and use biodegradable, recyclable, or materials approved by eco-friendly groups like the Forest Stewardship Council materials (FSC). However, the renewability of many outdoor materials varies.
Cost:Most people consider the cost of picking one material over another for furniture at the end of the day. You must stick to your budget, but it's also critical to understand how costly materials are in the long term and how their price compares to the worth of their advantages. Will it need to be changed regularly? Does it demand a lot of time and work to keep it up? These are important financial factors that you could overlook while weighing your options.
Wood
For millennia, wood has been a favored furniture-making raw material. It has a natural beauty, is relatively easy to work with, and provides a stable structure for tables, chairs, benches, and other furniture. When it comes to outdoor use, though, not all woods are made equal. Many softwoods, such as cedar, pressure-treated pine, and fir, are affordable and frequently used for interior furniture, but they do not stand up to the weather and must be securely stored while not in use.
On the other hand, hardwoods are far more resilient to weather and may survive for decades if maintained. Unfortunately, they are generally more difficult to mold and shape and more costly than softwoods on the flip side. And they have significant variations between them.
Metal
Metal patio furniture is the most durable and robust material for outdoor garden furniture. Metallic frames may be thinner and molded into more intricate shapes than other choices because of their strength, offering manufacturers more stylistic versatility. When combined with other materials with their own practical and aesthetic benefits, metal is an excellent choice.
Metal chairs and tables may be made using various manufacturing processes that do not need bolts, screws, or other fasteners that make other forms of furniture more prone to breakage. Metal, on the other hand, has several disadvantages. When exposed to the sun, it becomes hot to the touch. Certain metals are hefty and challenging to transport, and all metals are susceptible to rust and corrosion to some extent. However, each metal type has its own set of properties.
Resin & Plastic
In outdoor furniture, artificial synthetic materials like resin and plastic are becoming increasingly popular. These polymers may now take on forms and sizes that were previously impossible thanks to new production techniques and hybrid compositions. Synthetics are usually light and affordable, and they may be sculpted to fit any décor style.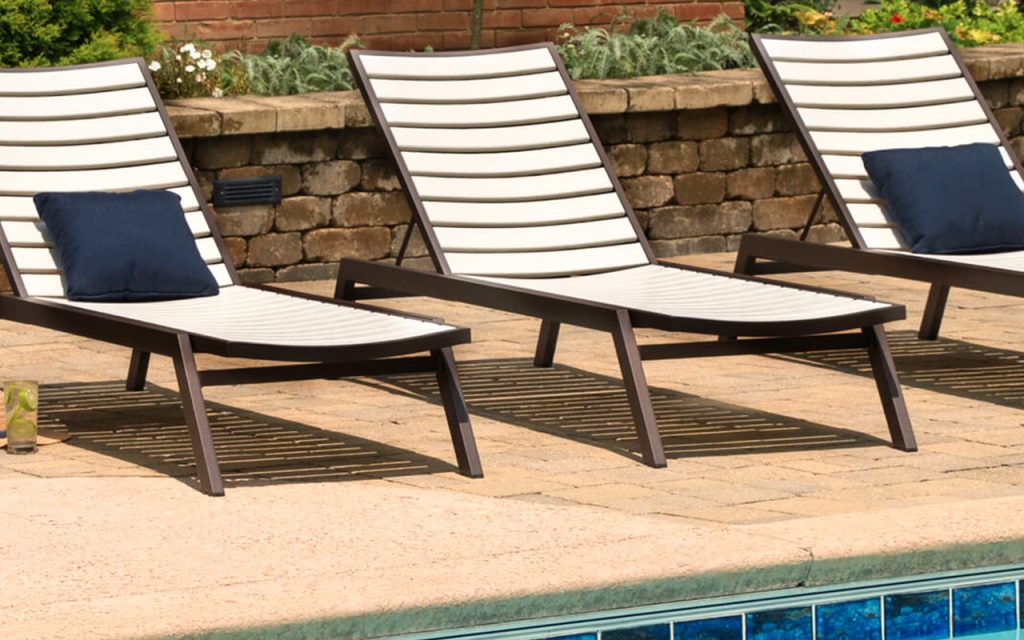 In addition, they are fade-resistant and do not require paint or sealants like other materials since the color is intrinsic to the chemical make-up. They're also simple to clean. There is an increasing number of plastics and resins on the market, but here are a handful of the most commonly used ones.
Other Materials Commonly Found in Patio Furniture
Luxury outdoor furniture, in addition to wood, metal, and plastic, uses a range of additional durable materials in a range of applications. Patio dining tables, for example, might have metal or wooden frameworks with different material surfaces. These materials have various properties that are suitable for multiple practical and aesthetic purposes.
HPL:This material is usually up of kraft paper that has been soaked with resin and aluminum, then heated under high pressure to form a modern layered material. HPL has a sleek appearance and is exceptionally durable, making it stain and scratch-resistant. Melamine can improve the durability of this laminate. In addition, it has antimicrobial and flame-retardant characteristics. HPL produced with pine kraft lignin is ideal for outdoor usage since it has a low affinity for water, leading to swelling, internal tension, and cracking. Although it is more expensive than other materials, high-pressure laminate makes an attractive surface for modern outdoor dining and lounge tables.
Tempered Glass: Because of its resilience to temperature fluctuations, tempered Glass is often used for outdoor tabletops. Glass can be lacquered to enhance its resistance to the weather. At the same time, acid cleaning makes it resistant to smudges and fingerprints.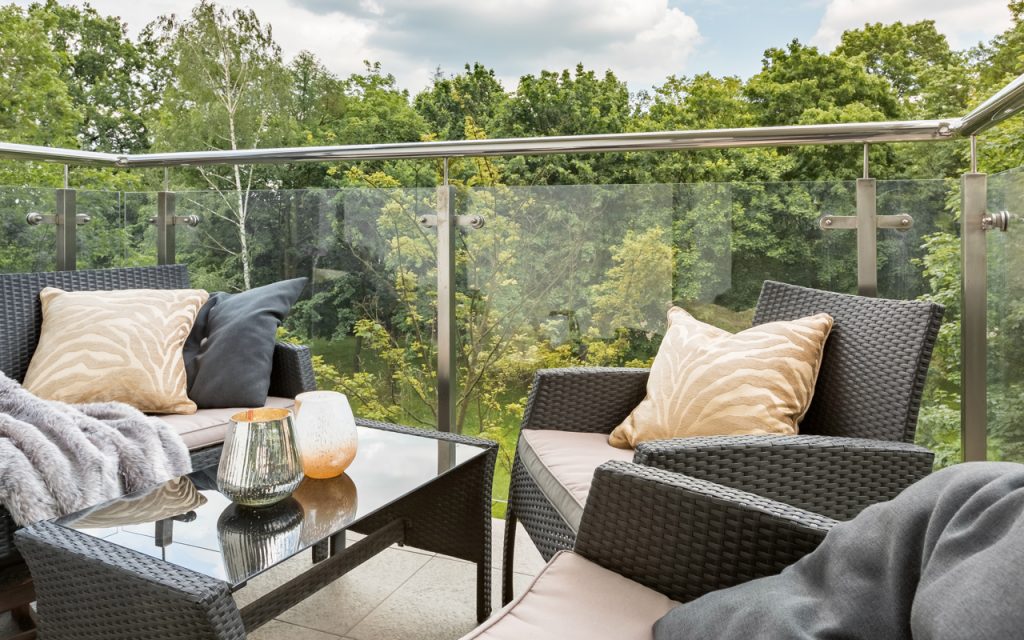 Its smooth surface has an exquisite feel to it, and the transparency gives it an open, spacious sense. Where there is some cover to prevent the light from bouncing off it and blinding guests, Glass is a fantastic choice for sunroom or screened-in porch dining and coffee tables. Glass may be pretty heavy and difficult to move depending on its thickness.
Concrete: While specific minimalist contemporary spaces may have solid concrete outdoor furniture as a permanent design element, this composite is more commonly used than other materials. It may be used as a stable basis for glass top dining and leisure tables or as a commanding tabletop atop a robust metal frame. Concrete is durable, long-lasting, and can resist the weather for years. It may be poured into a variety of forms and molded into thinner structures when reinforced with fiber. Fibers are made of glass, steel, synthetic, or organic materials, improving the concrete's structural stability. It also improves the material's resistance to water and ice.
Conclusion
You can prevent corrosion by treating materials that aren't inherently resistant to water and rust. For example, aluminum, plastic, and HDPE timber are simple to clean, but teak and wicker require more upkeep. Aluminum is a great inexpensive, long-lasting, and easy to clean material, but it gets hot in the sun.
Consider your particular taste – what is your style? For example, do you like aluminum patio furniture and lumber's modern designs and clean lines, or do you like the natural feel of teak and wicker? What material complements your desert home's architecture and ornamental elements?
In the end, your selection will be based on your budget and the length of time you want your outdoor furniture to survive. Start decorating your desert retreat once you've decided on outdoor furnishings.
Visit our showroom to shop Phoenix Patio Furniture that is most than just casual.