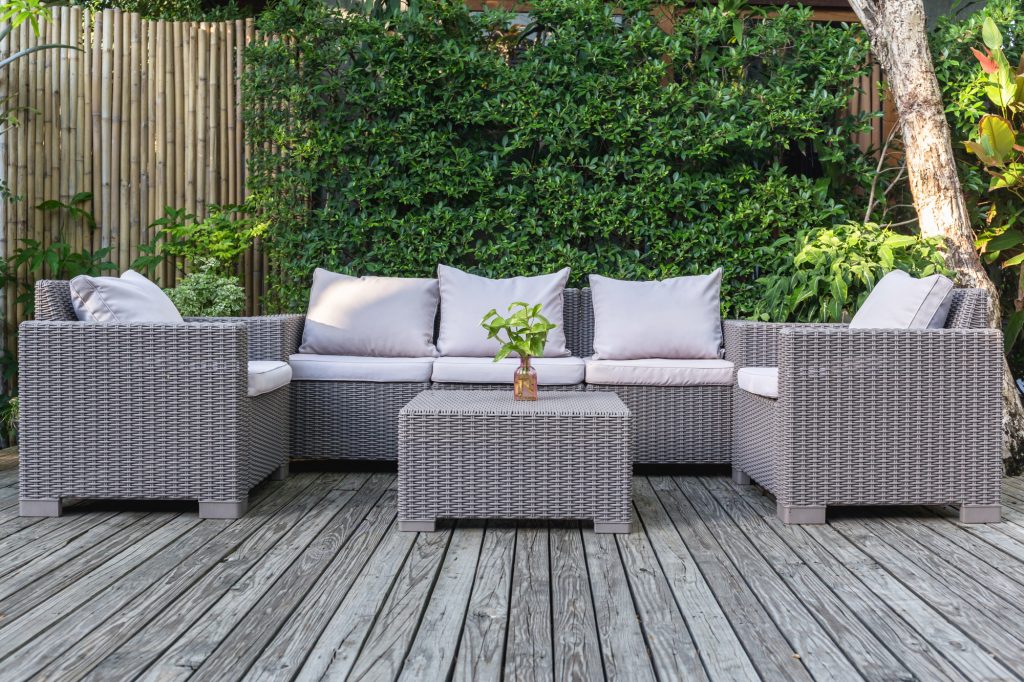 Everyone loves a great patio.
It's a place to be outdoors while still at home (who doesn't love that?). It's a place to host BBQs, parties, tend to the garden, or watch the kids in the pool.
It's also one of the top outdoor upgrades you can make to your home, according to realty experts. An 18′ X 20′ patio that costs $7,200 can earn you a 69 percent ROI. That's a fantastic value to your home.
But, you need functional accessories out there. When's the best time to buy patio furniture, so that you get the highest quality at the most affordable price?
We discuss the details in this tell-all guide. Grab a fresh-squeezed lemonade and settle in! Soon, you'll be enjoying that drink on your brand-new patio furniture.
Why March Is the Best Time to Buy Patio Furniture
Arizona is starting to jump headfirst into some beautiful weather. Rather than spending the day indoors, it's time to deck out your patio with the best furniture and hang out in your backyard. Grab a book, take a nap, or just watch the flames dance in your firepit.
Whatever your reason for wanting patio furniture, March is the time to buy.
Weather reports show that between February and March, the most significant jump from relatively colder weather to relatively hotter weather occurred. Suddenly, everyone wanted to slide open their doors and breathe in the fresh air.
So, temperatures aside, why else is now the best time to buy patio furniture?
To observe and enjoy the changing of the seasons
March typically has a surplus of deals available, due to the weather
Prices are affordable because they're not inflating due to supply and demand problems
You can avoid shipping delays that are bound to happen in the busier season in spring
If you wait until the heart of springtime, you can bet your bottom dollar you'll face higher pricetags (with fewer specials going on), higher wait times for delivery, and the potential for fewer options. That patio set you've had your eye on for weeks may sell out if you don't invest now.
At All American Outdoor Living, we're currently offering a St. Patty's Day special that'll bring your patio to life without breaking the bank.
Types of Patio Furniture You Need
When it comes to shopping for patio furniture, you have a few options.
You can shop by brand name, getting every piece from that label, or you can mix-and-match various labels. Many brands offer patio collections so that you can choose from an already-curated selection of patio furniture options. These collections make the decision process simple and straightforward, simply:
Choose an inspiring collection
Mix-and-match different fabrics, finishes, and sets
If you have trouble choosing, that's what our designs are here for!
What size and type of patio furniture you get largely depends on your taste and the size of your patio. Regardless, you'll need a few key pieces to tie the whole look together (you don't want it scattered). Some patio necessities include:
Outdoor seating
Patio tables
Patio shade, such as umbrellas or retractable awnings
You can even choose to invest in extras like patio kitchen equipment or an outdoor fire pit. Outdoor fire pits are great because you can position the furniture around it, making a beautiful U-shaped layout, for example.
Speaking of accessories, there's plenty more you can do to beef up your patio along with your new furniture. To make your set-up look natural, lived-in, and unique, consider adding some cool extras. These ideas include:
Outdoor cushions (perfect for taking that afternoon nap)
Outdoor lighting (a necessity for nighttime hangs)
Outdoor rugs
Planters
Small end tables (for drinks, candles, magazines, plants)
Planters
Throw pillows
Speakers (for all the parties you'll be throwing!)
If you're going to get patio furniture, you may as well deck out the whole space while you're at it.
Where to Get High-Quality Patio Furniture at a Reasonable Price
Now that you're ready to buy, and you know what you need, how do you know who to buy from? These are valid concerns—after all this, you don't feel like wasting your money on anything subpar.
Here are a few questions to consider when finding a furniture supplier that can get you what you want:
How long have they been in business? Outdoor Living has been in operation since 1973!
Do they offer free patio design assistance? This is crucial to those who are at a loss for inspiration
Do they provide financing options for those who need or want them?
Do they have a large selection of brands, styles, and prices?
Do they also sell patio extras, like fire pits, pillows, rugs, and the like?
Outdoor Living has a 12-month, interest-free financing option. It's incredibly rare to find such a great deal on patio furniture—even when there aren't specials going on. We also provide free white-glove delivery, another rarity in furniture stores.
Additionally, we have a massive collection featuring tons of high-end brands, as well as unique, lesser-known brands (so you don't have the same patio furniture as your neighbors).
The Time Is Now
There's no better time of year than now.
March offers clear benefits—great selections, great prices, great weather. It's the best time to buy patio furniture!
We've got fantastic deals going on—but you have to act quickly. Our St. Patrick's Day deals don't last forever. Until March 31st, enjoy 70 percent off select items.
After that, contact us for all your patio needs, or browse our various patio collections online. We're always ready to get you set-up with the best backyard!