Spring is in full bloom, and the weather is beginning to warm. As we move through spring and into summer, expect temperatures to hit all-time highs. When you need a break from the heat, a patio umbrella, like the Tucci umbrella, is the absolute must-have for supreme outdoor living. The right umbrella provides an abundance of shade while also adding a splash of style to your backyard.
Aside from appearances, there are several factors to consider when selecting the right patio umbrella for your outdoor needs. The size, material of the canopy, the umbrella's foundation, and operating mechanism are all factors to consider before investing.
Initial Considerations
When it comes to selecting the best patio umbrella for your space, there are several factors to consider. Determine the size you need first. The size of your umbrella will determine the type of base you'll need to keep it stable in different weather conditions. Umbrellas range in size from five feet in diameter to fifteen feet or more. Ask yourself, "What will my umbrella provide shade for in my outdoor area?"
Next, decide which umbrella style is best for your space and lifestyle. Street umbrellas, cantilever umbrellas, rectangular umbrellas, and umbrellas with lights are the popular styles to consider. Think about all the features that matter to you, as you might find several styles that offer all you are looking for and more.
You'll need a few accessories once you've decided on the size and design of your patio umbrella. Most outdoor umbrellas do not have bases, so you'll have to purchase one separately. You'll want to secure your investment with an umbrella cover if your outdoor space gets a lot of direct sunlight or excessive rain. Weather-resistant umbrella covers usually have zippers or Velcro for added protection and only cover the fabric umbrella (not the stand or base). Covers range in price from $15 to $75, making them a worthy addition to your umbrella purchase.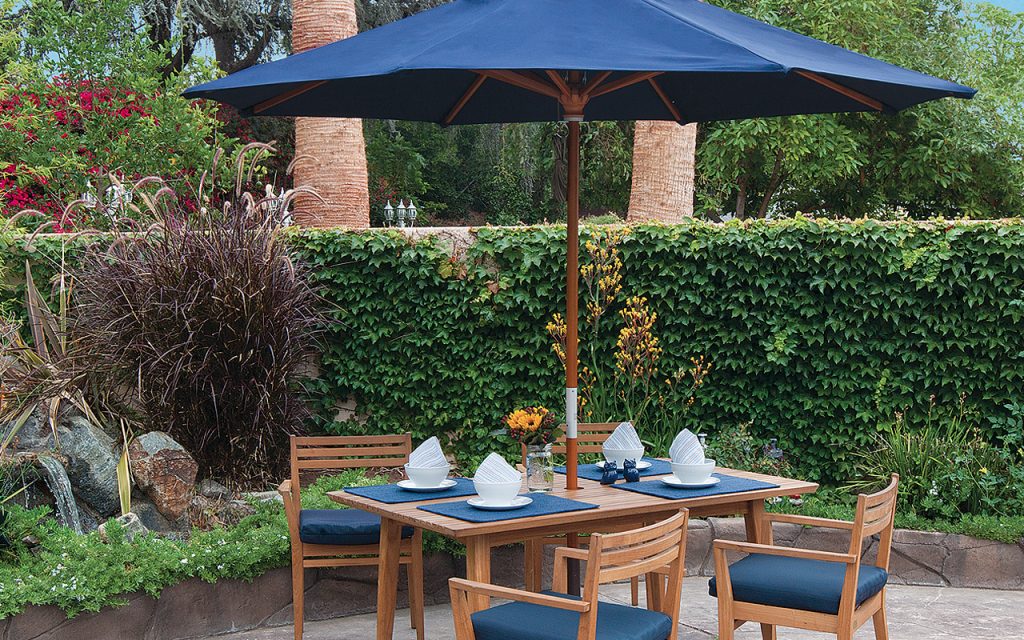 Types of Umbrellas
There are two main types of umbrellas to choose from.
Market Models: This is a traditional upright patio umbrella. Market umbrellas are the most popular patio umbrella design on the market. Most models have a vented canopy, which allows a slight breeze to pass through without raising the umbrella off the ground. They feature a central stand that connects to the canopy through several support bars. A tilt feature is available on some market umbrellas, allowing you to change the frame's upper portion to keep the shade focused precisely where you want it. Market umbrellas are a perfect way to provide shade for a patio table, outdoor kitchen, or small seating area.
Cantilever: Also known as "offset umbrellas," these models have a canopy offset from the base by an arching frame. This feature means the umbrella base won't get in the way of your deck chairs or entertaining outdoor area. When the sun moves from east to west, a tilted model helps keep the shadow from being cast. The arched design of these umbrellas makes them suitable for open spaces. The canopy will loom directly over the seating area if the stand is off to the side.
Of these types, there are two distinctive features that further separate umbrella models.
Lift: There are three different types of lifts: manual, pulley, and crank. When selecting a lift method, think about how much you'll need to take the umbrella down. Manual lift patio umbrellas, for example, take more effort to work than a pulley, while crank lift umbrellas are the simplest to use.
Tilt: Patio umbrellas with tilt options adapt to the sun's angle during the day for more versatility. If you're constantly shifting your chair to escape the heat, the tilt option on your umbrella is just what you need. Tilting the canopy is simple and can be achieved using the following methods: collar and auto, manual, rotational, or push. All of these strategies take minimal effort for the user.
These umbrellas mostly come in one of two variants.
Table: Table umbrellas are models that are meant to run through the middle of a table. Some tables have them built-in as one unit, though most aren't to allow flexibility and ease with which to replace your umbrella.
Freestanding: A freestanding design might be better if you want your umbrella to provide shade on a different part of your patio, such as over poolside lounge chairs. It's also possible that you don't want a pole to obstruct your patio table. With freestanding umbrellas, you can use a table entirely for food preparation or gameplay.
Umbrella Size
The size of a patio umbrella is one of the most important considerations when purchasing one. If it's too tall, it'll look bulky and out of place; it won't provide enough shade if it's too small. The amount of shade your area will get is determined by the size of your umbrella. Consider how much shade you'd like and how much room you have. It won't look or feel good to clutter your patio with an overly large umbrella.
It's important to note that umbrella dimensions apply to the canopy's width when wholly extended, not the height. Although umbrella widths vary, the height should be no less than seven feet and no more than nine feet when completely raised. The recommendations below will assist you in choosing the right umbrella for your needs.
A 5-foot to 6-foot umbrella provides the perfect cover for a bistro set with two chairs.
If you want to shade a 36-inch table with two to four chairs, you'll need a 7-foot umbrella.
Are you looking to shade a 40-inch table with four to six chairs or a small conversation area? A 7.5-foot to 8.5-foot umbrella is your best bet.
For tables up to 48 inches or small-to-medium conversation areas, you'll need a 9-foot to 10-foot umbrella.
An 11-foot umbrella is suitable for a 60-inch table with six chairs or a medium-sized conversation area.
For an extensive conversation area or a 60-to-72-inch table, choose an umbrella that's 11.5 to 13-feet across.
Your umbrella pole's height is also critical; you want it to be high enough to be out of the way but not so high that it loses its purpose. Eight-foot-tall poles are the most popular, but there are other choices. Consider the height of your head. A minimum of 7-foot umbrellas is recommended. If necessary, extend the table width by an additional 2 feet on each side. For example, if you have a 4-foot round table, look for an umbrella with an 8-foot diameter.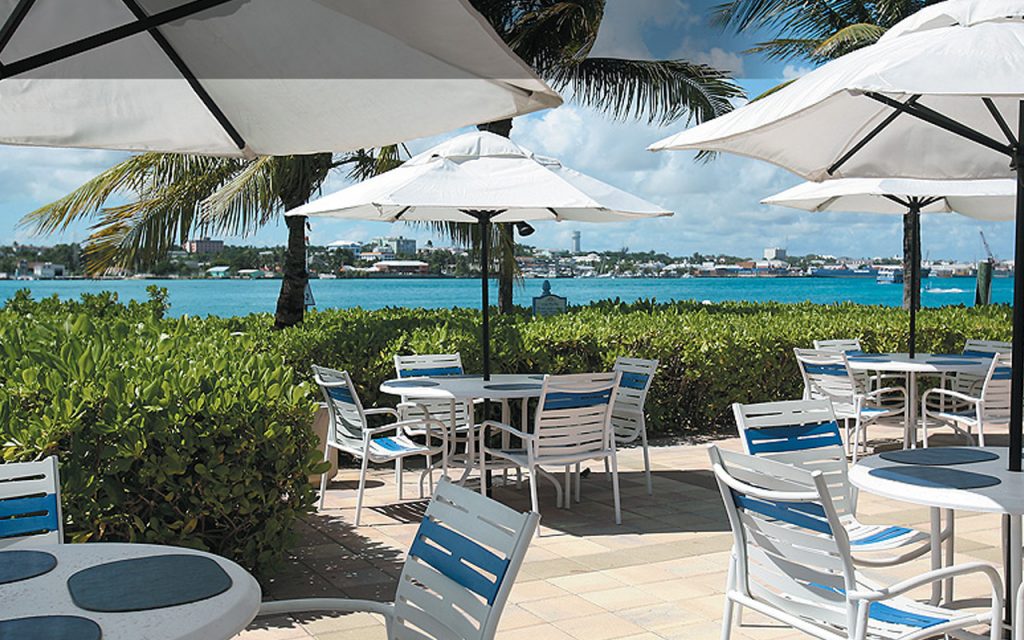 Umbrella Materials
The best way to pick an umbrella is to match your exterior aesthetics or complement the furniture your umbrella would be covering.
Construction Materials: Aluminum, wood, and fiberglass are the three most popular materials for umbrella frames.
Aluminum umbrella frames are the most common choice because they are the least costly, withstand a wide range of weather conditions, bend enough to withstand moderate winds, and are lightweight.
Teak and other hardwoods make lovely frames that look particularly good on a wooden deck. While treated to prevent rot and weather damage, outdoor wood tends to fade or change color over time and is more likely than metal to snap in high winds.
The most expensive choice is fiberglass, but it is also the most durable. This solid, lightweight material will not rust or weather, and it will perform well even in high winds. If you live in a windy place, consider a fiberglass style rather than an aluminum one.
Fabrics: Choose a fabric that can withstand the elements. The umbrella's fabric must be strong enough to withstand the heat, rain, wind, and cold. Sunbrella, a standard fabric used by many manufacturers, is one of the most popular. This durable acrylic fabric is available in a wide variety of colors and patterns and can withstand almost any environmental condition without fading. Polyester, canvas, unbranded acrylic, and Olefin are all durable materials that can be used outside. Please pay careful attention to the umbrella's fabric, as it must be weather-resistant to both heavy sun and rain.
Bases and Stands
Even if the umbrella is centered through your patio table, it takes a heavy base to prevent it from falling over or flying away. Failure to protect your umbrella increases the likelihood of it being destroyed, as well as the risk of injury.
Umbrella bases are mostly made of stone, iron, or concrete, but some less costly bases are hollow plastic that must be filled with sand or water. Some umbrella bases have small wheels, which come in handy if you need to drive your umbrella around.
The heavier the base, the bigger the umbrella, and cantilever models require much more weight than market variants. Some umbrellas come with a foundation, while others require you to buy one separately. For reference:
40 pounds for 5-to-6-foot umbrellas
50 pounds for 7.5-to-8.5-foot umbrellas
60 pounds for 9-foot umbrellas
70 pounds for 10-foot umbrellas
100 pounds for 11-to13-foot umbrellas
An appropriate umbrella base is required; don't be fooled into thinking that securing it to a table would suffice. Umbrella bases not only help keep umbrellas straight in strong winds, but they also help keep them straight in sunny weather.
Look for the biggest base you can find for umbrellas larger than 10 feet. Make sure the base is made to match your umbrella's pole. To get the best fit, speak directly to your umbrella manufacturer.
Go here to shop for elite treasure garden umbrellas