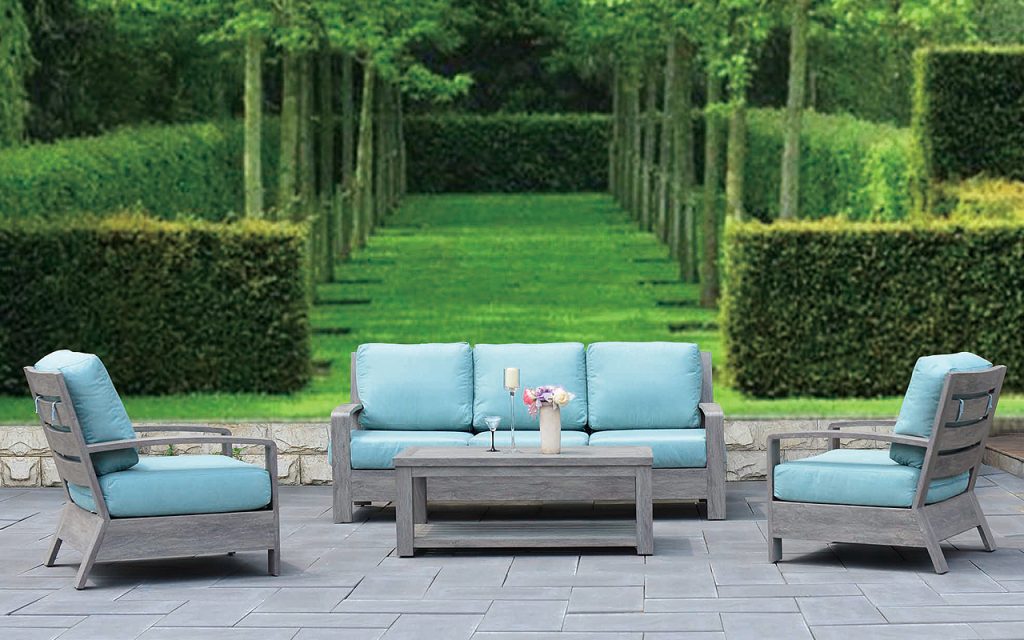 Summer has come and gone in the blink of an eye this year. This unprecedented pandemic and subsequent lockdown have made the once glorious months of summer fly by. While we will long for the warm days playing at the beach or camping in nature, we can take comfort in knowing that an even better season has arrived to fill the void. Fall is here in full force and is changing everything in its path (especially the trees).
Fall weather is emblematic of comfort and coziness. The days are beautiful and the evenings are lovely to enjoy in your backyard patio. It is the perfect time to grab a cozy warm blanket, a cup of your favorite hot beverage, and a good book to read while you take in an autumn sunset. The only thing missing from this romantic image of fall is an inviting patio space and comfortable, deep seating furniture collections to enjoy it on. That's where we come in. Here are a handful of ideas you can use to spruce up your patio and make the most of the changing season.
Deep Seating Outdoor Furniture
There is something so relaxing about lounging outdoors in a comfortable chair. The idea of a hammock has always seemed fun, but they never are quite as comfortable as you hope they'd be. Instead of trying to figure out how to tie a string between two trees, consider investing in an outdoor furniture set that has deep seated comfort built in. There are several options for deep seating, from sofas, to love seats and lounge chairs. These pair nicely with outdoor accessories like ottomans and coffee tables to really tie your outdoor room together.
The Best Bang for Your Buck: Wicker Weave Furniture Sets
Starting our list off strong is the best all-around value set for your backyard. The Frances 5- Piece Wicker Weave Seating Set is not only affordable, it also is made of a weather resistant resin wicker that can stand up to the toughest of mother nature's elements. The color scheme and design are elegant and neutral, making it perfect for a wide variety of patio designs and decor. The couch offers an incredibly deep-seated comfort and is a great place to entertain guests or relax with your loved ones.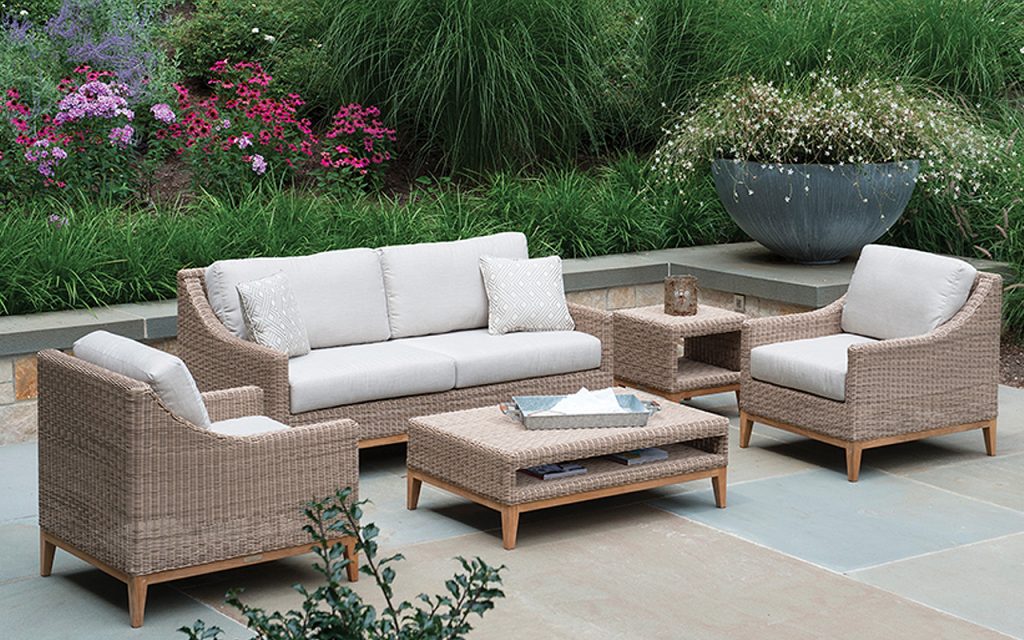 If you are looking for something that is just a tad more upscale in design and offers the same durability and comfort, check out the Antigua Wicker Deep Seating Set. The PVC-Resin material has an elegance about it that regular plastic lacks. Both come with a 5-year warranty for your peace of mind.
Class Meets Comfort: Handcrafted Aluminum Furniture Sets
When it comes to class, quality, and comfort, these handcrafted aluminum furniture sets do not disappoint. The Madrid Cushion 7-Piece Seating Set is the perfect set for backyards set in a hotter climate (or themed decoratively as such). Dark and neutral tones bring out the earthy and outdoor feel of this set. This furniture would feel right at home in a Tuscan or Ranch style patio.
For a more modern approach, take a look at the Trento Cushion 6-Piece Deep Seating Collection. This handcrafted collection features lines and colors that are much more modern. They pop in a beach setting, garden or extremely modern home design and are handcrafted with spectacular style and a modern aesthetic for any patio, terrace or pool side deck.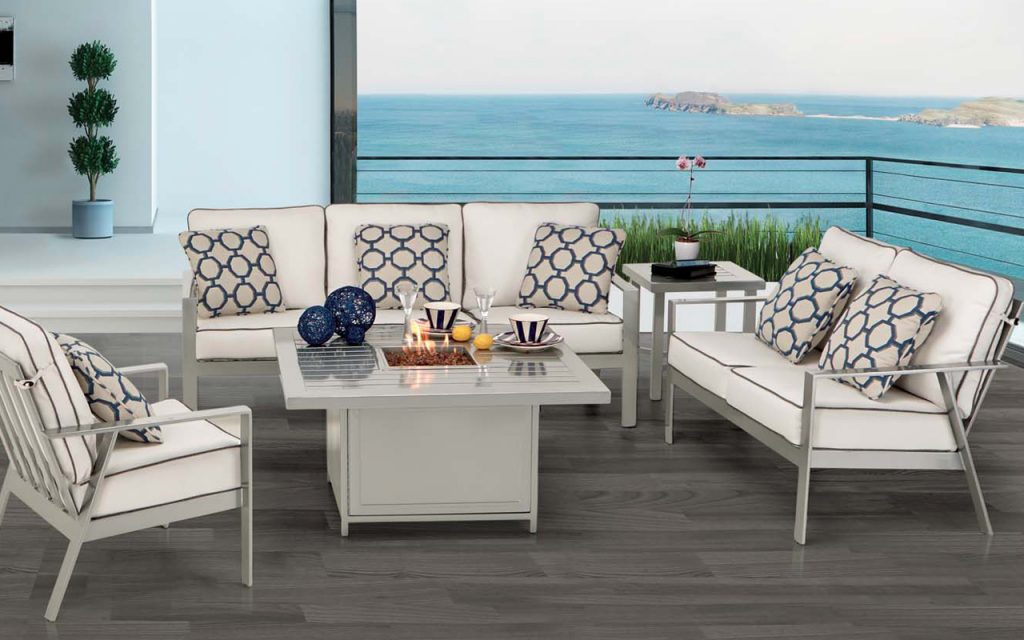 If comfort is more important to you, look no further than the Belle Epoque 5-Piece Crescent Deep Seating Collection or the Madrid 4-Piece Crescent Deep Seating Collection. Madrid is a collection of style, quality, and value for the Old World design.
Versatile Designs: Powder Coated Aluminum Furniture Sets
The furniture sets in this category are the definition of value, versatility, and comfort. These powder coated aluminum structures support a wide variety of comfortable cushions that can be tailored to match the design of your outdoor space. If you are looking for an all-around solution for your patio, check out the Kenzo Seating, Corsica Seating, Lucia Seating, or Lakeside Cushion Deep Seating Collection furniture sets.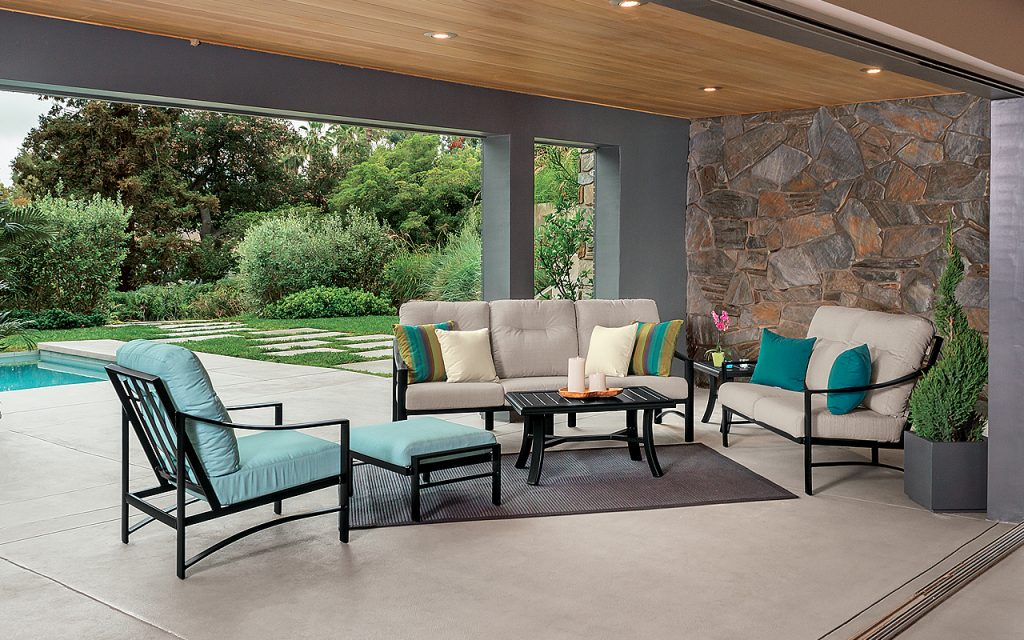 One of the more unique and homey-looking sets in this category is the Seattle Deep Seating Collection. The powder coating on this set has been shaped and stained to look like weather faux driftwood and is so kitsch it could be straight out of a Nicholas Sparks movie.
If you are going to be entertaining a large number of guests, you will likely need a couch that is big enough to accommodate the extra seating needs. The Urban Retreat 4 Piece Sectional is ready to serve with an extra-long couch and connecting loveseats to ottomans. This is the perfect couch for watching a movie outdoors.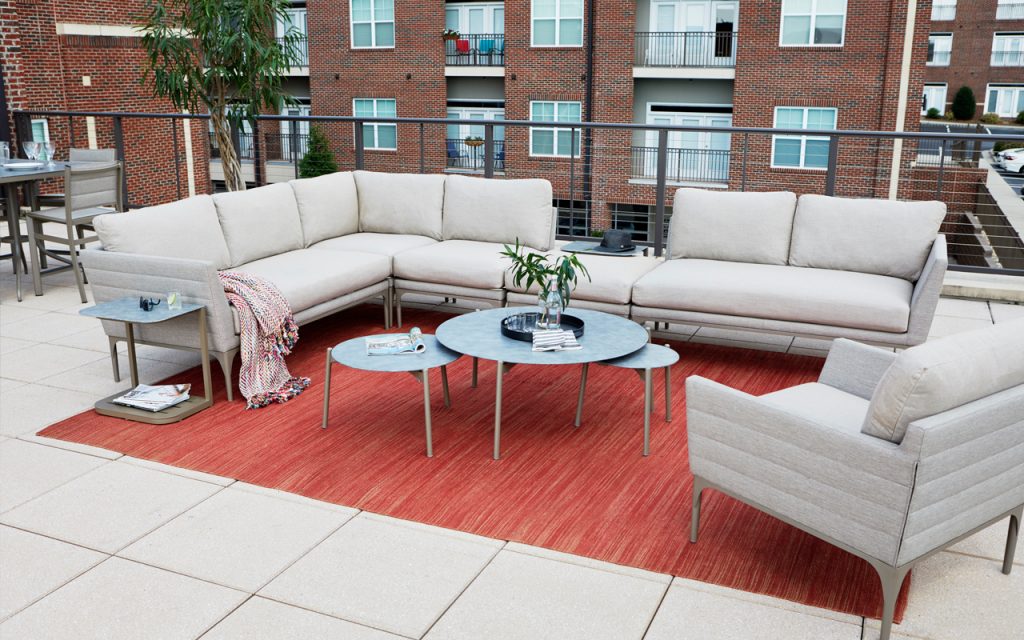 The best part is that all of these furniture sets come with a 15-year warranty, so there is no safer place to invest your patio furniture money for the long term.
Warmed by the Hearth: Furniture Sets for Fire Pits
An ever-popular trend for backyard patios is the fire pit. Making s'mores and telling ghost stories are just some of the fun things you can enjoy when you install a backyard fire pit. There are options for both gas and wood burning pits and you can't really go wrong with either. The price and construction requirements will likely determine what set up is best for your patio.
Once you have your pit, you'll need a good hearty patio furniture set that can stand up to high temperatures. The Park Place 7-Piece Cushion Seating Collection is a great set for a patio fire pit. Its handcrafted aluminum frame has been treated to be heat resistant so it's not only durable, but also resistant to heating up to an uncomfortable temperature. Several fabrics are available which are naturally flame retardant in case of a runaway ember.
Dining in Nature: Outdoor Kitchen Furniture Sets
One of the best parts of having an outdoor patio is the idea of an outdoor kitchen. They come in all shapes and sizes, with varying functions based on your culinary preferences. Barbecues, smokers, grills, cocktail bars; the possibilities are endless. Focusing on the cooking aspect of your outdoor patio kitchen is only half the battle; you also need to consider where you'll be eating your delicious food.
If you love to cook and enjoy your meals while taking in a breath of fresh air, you'll need a set of patio furniture that is centered around traditional tables and chairs. Look for a furniture set like The MAD Fusion 5-Piece Lounge Collection to keep you comfortable during your outdoor dining experiences. The stainless-steel frame is heavy and comfortable, improved by the high-density polyethylene lumbar support seating. It has a central table for a focus on food and drink along with a set of chairs that bring the whole group together. Best of all, this product has the longest warranty of all at an astonishing 20 years.
Tying Your Whole Outdoor Room Together
After you have chosen the perfect outdoor patio furniture set for your home, it is time to begin filling in the decorative gaps between the other elements of your yard. Here are some hot design trends for this fall season.
Outdoor Lighting: Proper lighting can really make your outdoor space feel inviting. If you are looking for a more traditional lighting set up, try a ceramic outdoor light. They are affordable, durable, and most importantly, portable. These lights are aesthetically pleasing and can illuminate a large space.
For a more elegant approach, try string lighting. The medium sized round bulbs are a popular trend this year and can make your backyard patio feel magical. The light is also soft and nonintrusive to neighbors.
Breakfast Patio: People are working from home in larger numbers than ever before because of the pandemic. As a result, less people are having to eat breakfast on the way to work or grab a doughnut at the office and can actually enjoy eating a nice meal. Why not enjoy your breakfast and coffee from your own outdoor breakfast nook? A small table, a few comfortable chairs, maybe an umbrella, and you have a cozy little place to start your day off on the right foot.
Unique Seating: Another hot trend right now is adding unique or funky pieces of furniture to your patio. Hammocks are always in for people who enjoy them, but porch swings have seen a recent uptick in popularity. Traditional porch swings are easy to use and pretty affordable, but people have gotten quite creative with what can be used as a swing. While it may not be for your average backyard dweller, swinging sofas have become a thing amongst those who have the proper space for it. It sounds strange, but also incredibly comfortable.
However, you do it, take the time to spruce up your outdoor patio this year. We are all spending more time at home but that doesn't mean you have to stay inside. Let All American Outdoor Patio help you build your ideal patio space for this fall season and don't forget to ask about of free custom design assistance.