from
All Seasons Pool and Patio
to
All American Outdoor Living
Family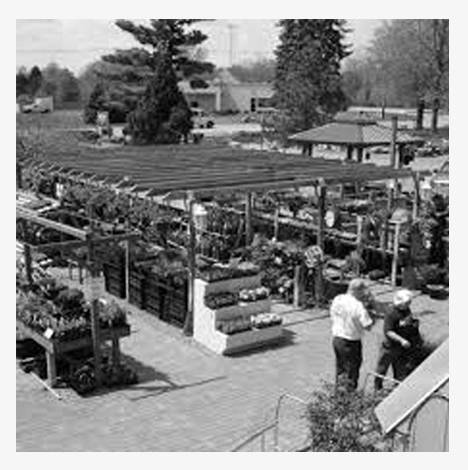 Our All American story starts with my grandfather, Barney Singer.
Hi, I'm Todd Singer, President of All American Outdoor Living.
Barney worked in a small outdoor garden center in Chicago, Illinois. After the war [WWII], Barney's son, Mitch—my dad decided to move out west to attend Arizona State University.
After Dad got settled in at school out here, my grandparents came to visit Arizona for the first time. Needless to say, they were really excited about getting out of the cold! Not only that, they felt that this place could be the start of a new prosperity with a new venture.
It didn't take much persuading for them to "Go west, young man!" as they used to say back then. That's how it all started: once Mitch went to college here, Barney packed up the rest of the family, moved from Illinois to Arizona to pursue a better life. It was 1973 when he opened his first store in Phoenix.
Was Barney happy he made the journey to Phoenix? Very much. First, obviously for the weather. And second, he knew he could combine his design aspirations for lawn and garden with pools and make it work for Arizona.
He believed it was a good business move and it was. The business grew with the town, and we're grateful for it.
History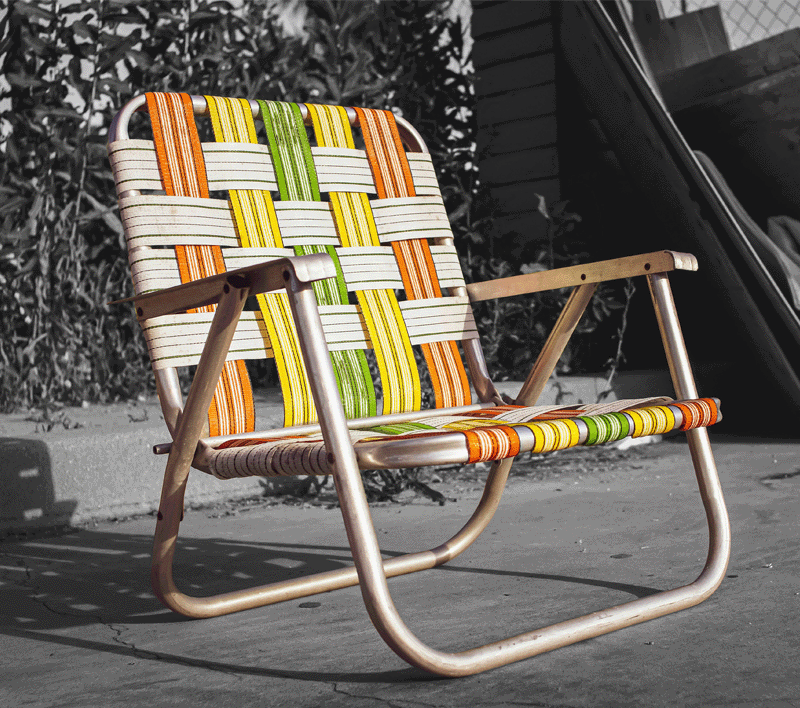 Before we became All American, we were "All Seasons Pool and Patio." That store sold above-ground pools and had a garden center. It was the one-stop shop of its day for home and outdoor. Of course, there wasn't much in the way of outdoor furniture back in the '70s — mostly strap- chairs, glass-top tables and round garden umbrellas.
My father, Mitch, originally started out in the restaurant business. But in 1989 he decided to make a switch and went into business with his father, Barney. Together they launched their new venture as All American Pool and Patio. The new store put an emphasis on patio furniture and pools, above-ground pools, parts, and supplies.
Being the founder's grandson, it seems like I've always worked with the company! I'm now the third generation, having been raised in the business from a very early age as it evolved. But it was actually 1999 when I officially came on board after college and we changed the name to All American Outdoor Living. That's also when I started the company's first website and we took the company online to begin selling all of our products across the country.
After we opened our first Scottsdale location, we expanded to Chandler in 2014. Five years later we opened another location. Currently All American is top-five in overall volume for outdoor furniture among all brick-and-mortar stores in the country, and top-two in Arizona, as ranked by the International Casual Furnishings Association.
We're proud to be consistently ranked among the top five retailers across the Southwest when it comes to volume of outdoor furniture sales.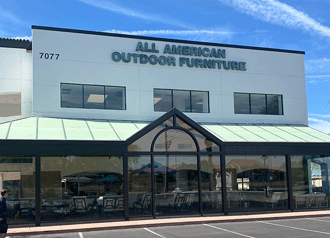 Scottsdale Store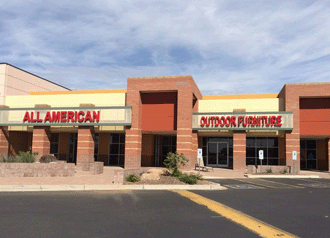 Chandler Store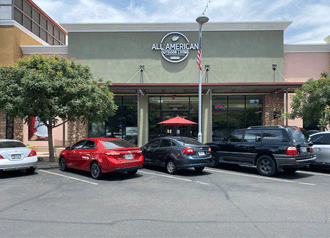 Phoenix Store
All American Value
As a third-generation family-run company, All American Outdoor Living is still locally owned and operated here in the San Tan Valley. Over the last five years, we've dedicated ourselves to developing our own line of products. We did this for a few reasons, but mostly to give our customers better value and quality for the price.
We carry a wide array of products in a variety of mixed mediums, such as woven wicker, teak, aluminum, and iron.
When you come in to visit, you can see the actual materials that we incorporate into the design.
We carry the top premium brands that people have come to know and trust, like Tropitone, Brown Jordan, Castelle and Mallin collections… Tucci, Frankfurt, Kingsley Bait, Sunset West… Elaine Smith throw pillows and wicker furniture designs from NorthCape.
What you see on the showroom floor is what we stock and we can get it right out to you.
All American in-house custom collections are also readily available, like our Brooklyn and Olivia collections that offer top quality for as much as 20 to 25% less cost. These are collaborations with some of our top manufacturers that combine to produce a "greatest hits" collection of popular outdoor styles and features.
Our Process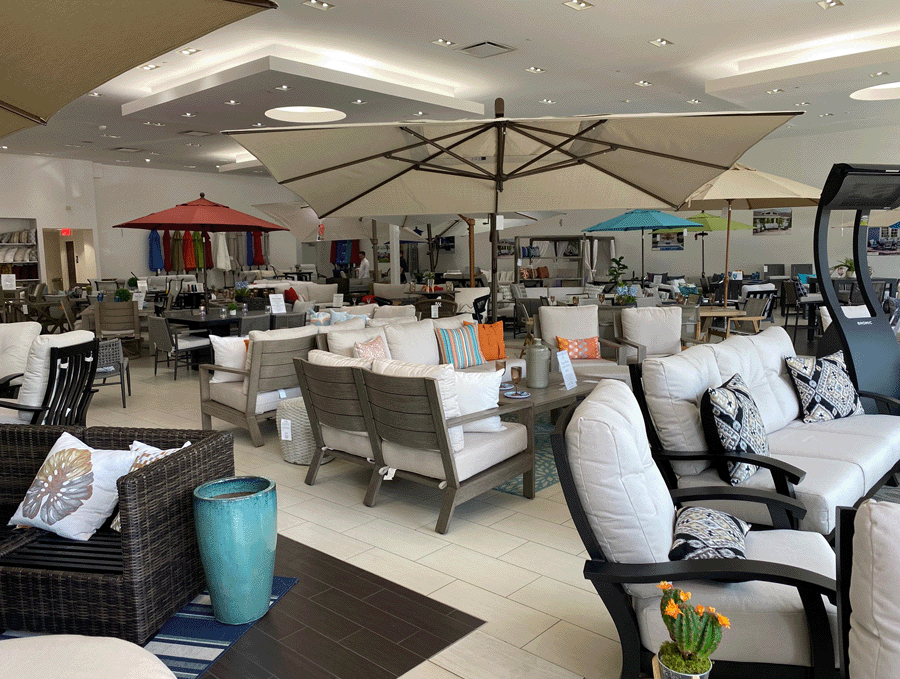 Whenever a customer comes in to All American, we usually invite them to first cruise the showroom floor and see what they like. That helps focus and narrow down the choices. For instance, we can see whether someone likes teak or prefers aluminum or wicker. We take those bits of information and funnel them into a practical, finished design.
It can get a little overwhelming when faced with so many choices, especially given our wide selection of outdoor furniture. But by working directly with our All American design team, customers get expert assistance in determining the style and materials that will best suit their yard according to the climate and sun exposure.
Our design team members are all dedicated, licensed staff with a minimum of five years' experience—some as much as twenty!
We match the customer's needs to the environment by providing things like CAD drawings, design layouts, and mood boards to help people determine and understand exactly what they'll get before it's installed. One of our designers sits down with the customer while we spread out the entire frame with fabric samples and go through the quote process piece by piece. It's like having a complementary design consultation.
Customers or designers often come in with examples of what they want to do. It could be a finished architectural drawing, maybe photos from their phone or a mood board. All of these elements help us build what the customer is envisioning.
Next, we go on site and take measurements as needed, walk the property with the customer, and determine what will best fit that area.
One of our designers sits down with the customer while we spread out the entire frame with fabric samples and go through the quote process piece by piece. It's like having a complementary design consultation.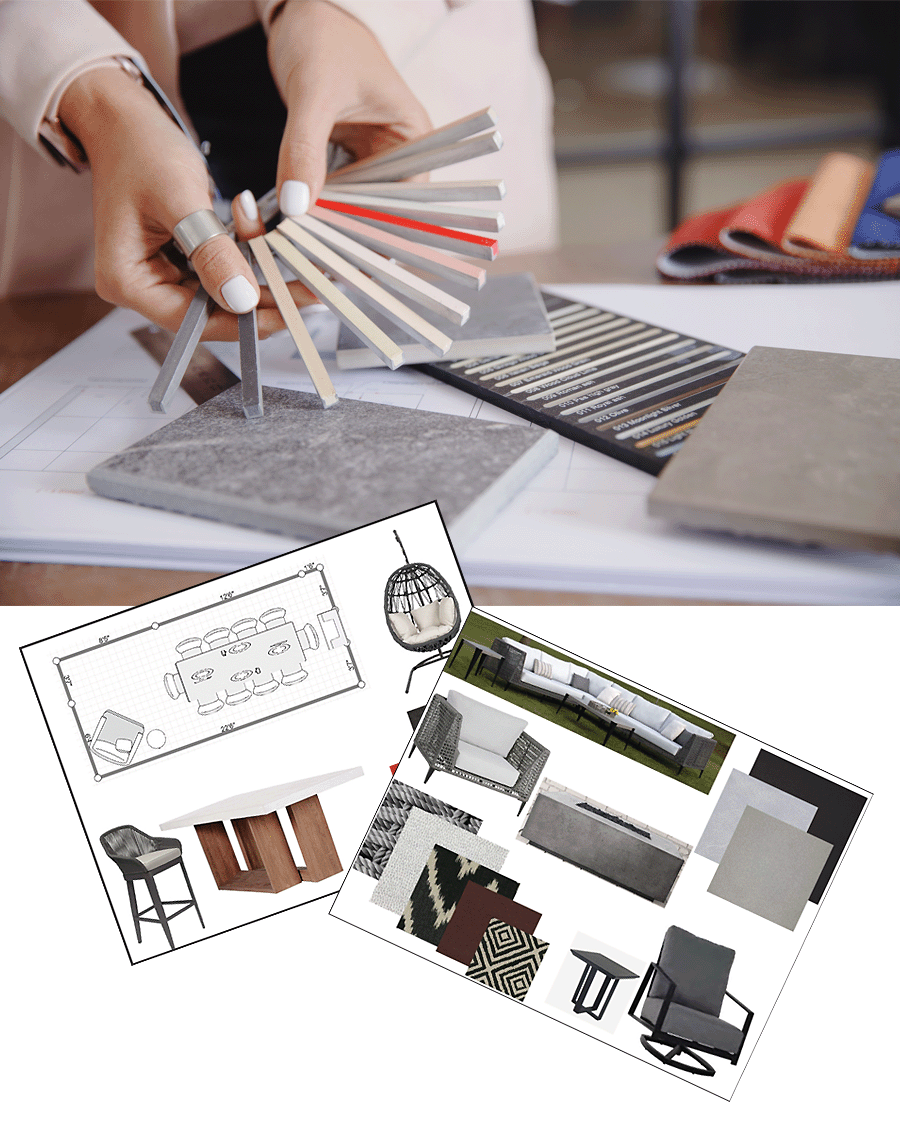 Customer Satisfaction
Every All American Outdoor Living showroom offers full-service design assistance along with complete installation services. The type of product you see in our showroom is exactly what we provide, directly to your door, whether you're local or out of state.
Our service includes up-front design consultation and top-quality products, all fully installed to your satisfaction at your location. We'll go out to your home and set it all up so you can envision what it will be once it's completely installed. At All American, the customer is part of the process and in the loop from start to finish.
One of the great things about making home and garden improvements is that customers often find themselves doing more home entertaining afterwards, rather than spending money on going out.
Of course, having a nice outdoor living area definitely encourages people to invite friends over, not to mention host family gatherings, barbecues, and so on.
That's why we like to say, "we make your outdoor living space the best room in the house.
Todd: Discover All American Outdoor Living, your premier destination for exceptional patio products and personalized service. From handpicked furniture to sustainable options, we're dedicated to creating your dream outdoor space. With our expertise, local support, and commitment to quality, choose us for an unforgettable experience.

What Our Customers Say:
"So extremely happy with my new outdoor furniture. The quality is top notch, and it just makes my outdoor space even more beautiful. My salesperson, Jenny, was so helpful and really made shopping there a great experience. I highly recommend this store!"
- Almee
"I am delighted with this company. The price was good, but the customer service was amazing. I had an issue with furniture discoloration. It was the responsibility of the manufacturer and Jenny went to bat for us and it was replaced. Great people, family owned. Give them a shot!"
- Vincent
"I worked with Isabella to get some new shays lounges for my back patio! She was absolutely great to work with and kept me updated throughout the entire process! I will continue to use this company for they helped in many ways get my patio looking great again!"
- Nicholas