An important part of utilizing your patio to its fullest potential is to make the exterior feel as homey and comfortable as the interior of your home. Often times a few patio accessories can turn your boring patio into a luxury outdoor living space, here are  a few design tips to help turn your patio into a luxury living space.
Wall Art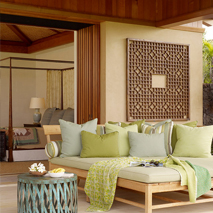 Wall art instantly adds interest to a room; outdoor wall art will make your patio feel custom and bring a little of your inside decor taste, outside. Be careful though, you don't want to clutter your patio with too many things and completely take away from the beautiful outdoors!
Outdoor Rugs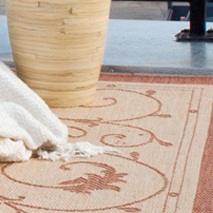 Who says rugs are just for the inside! Rugs look great outdoors too! Incorporating an outdoor rug on your patio can add an extra element of interest and typically work best with covered patios since they are less exposed to the natural elements.
Patio Lamps
This is one of our favorite patio accessory and unfortunately, many homeowners often overlook this aspect of their outdoor living. Outdoor lamps are a great outdoor living accessory, it allows you to enjoy and utilize your patio for a longer period of time. You many be saying to yourself, well isn't that what fire pits are for? Yes, but also having a lamp is handy for those hot summer nights or when a fire pit does not provide the right amount of light.
Wall table or Chest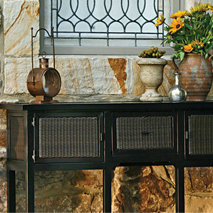 Incorporating a wall table with drawers or a storage chest is another great accessory to have on your patio. Again, these type of thing works best with covered patios, so the rain does not ruin your furniture. Wall tables with drawers come in handy for storing outdoor accessories you use regularly outside such as: books, remotes, candles, lighters, and even your gardening tools. Chests are great for extra throw pillows or a spare blanket for the chillier nights.
All American Fine Outdoor Furnishings has a wide selection of patio accessories with all types of styles. Spruce up your patio today! Shop online or come and visit us in store at either of our locations.