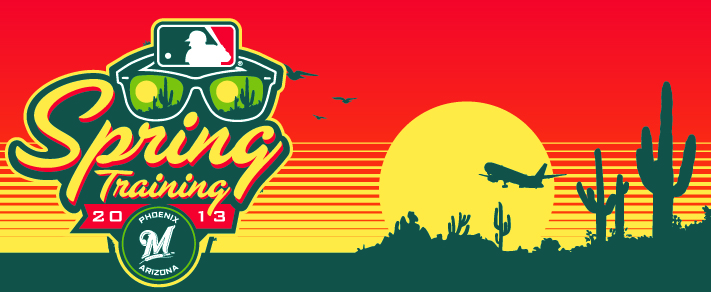 Have you gotten out and supported your favorite baseball team yet this spring training season? There is a good chance your team practices right here in Phoenix, Arizona. Half of the Major League Baseball's 30 teams have their preseason training in and around the Phoenix area.
In fact, Arizona has a long history of being a popular destination spot for spring training baseball, and who wouldn't want to play here in the spring? The weather is perfect and the sun is always shining!
With Arizona's Cactus League in its 67th season it continues with its long traditions however it isn't to say that nothing has changed! Much like everything else it continues to evolve and grow,  bringing record high attendance rates in both 2009 and 2010 adding more than $360 million to our local economy each year. Just since 2003 the Cactus League has added five ballparks with another on the way due to open in 2014. So who is the newest member of the Cactus League going to be? The Chicago Cubs!  The coolest part? The brand new training center will be at Riverside Park and is being designed to mirror the Chicago's historic home park, Wrigley Field.
As more and more stadiums are being built, the Cactus League continues to expand into other areas of the Valley including Peoria Sports Complex in 1994, home of the San Diego Padres; Goodyear Ballpark In 2009, home of the Cleveland Indians; Surprise Stadium in 2003, home of the Kansas Royals and the Texas Ranger.
So enjoy the weather while you can before the real heat moves in and get out there to see your favorite baseball team! Is your favorite team on the Cactus League?
Current Cactus League Teams
Arizona Diamondbacks
Chicago Cubs
Chicago White Sox
Cincinnati Reds
Cleveland Indians
Colorado Rockies
Kansas City Royals
Los Angeles Angels of Anaheim
Los Angeles Dodgers
Milwaukee Brewers
Oakland Athletics
San Diego Padres
San Francisco Giants
Seattle Mariners
Texas Rangers
Plan on visiting a spring training game in Scottsdale or Glendale? Stop in and visit any of our showrooms! At All American Find Outdoor Furnishings we have a large selection of luxury outdoor patio furniture and patio accessories to fit anyone's style!